Woke up for an early start to find out, after loading the bike up, that the rear tyre was nearly flat 🙁 While the lady cooked my fried eggs in bread I pumped it up, hoping for the best. It helped to swing the decision for the route. I had a choice to Pleiku either 210km and 2660 metres of climbing via Kontum on Route 24 or to pound down Highway 1 to Phu Cat and then the 19 up to Pleiku which is longer at 278km but 'only' 1530 metres of climb.
A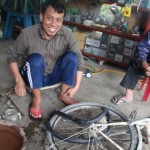 fter the first 25 miles it had visibly deflated so I found a little shop to fix it, the problem was a thin wire from a truck tyre had gone all the way through, so  it was soon expertly  fixed.  Interestingly this village also seems to be a centre for green and red rush matting.
The road proved to be undulating although i made good time as it was cooler & still a tail wind. Rather than by passing Hoal Nhon I went through it, finding a couple cleaning bikes for 50p 🙂 and a good job they made too. Loved that he greased the chain with Molybdenum Disulphide, bringing back memories of melting it in a tin on mum's stove, dipping the chain in & hanging it from the grill 🙂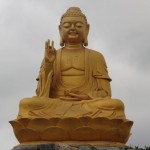 At Phu Cat I waved goodbye to Highway  1 and the East coast, the big Golden Buddha waved back to 🙂 I turned West towards  Pleiku, Cambodia & Thailand. Arriving in Phu Phong the first two hotels were full!, so a waitress in a local restaurant helped me to find Khach San by leading the way on her moped.
A long day with over 90 miles on Strava.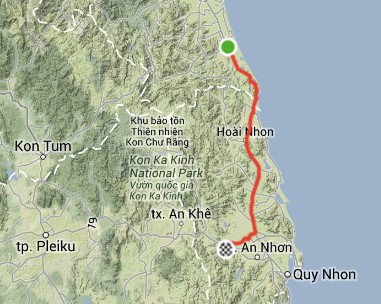 All the photos are here