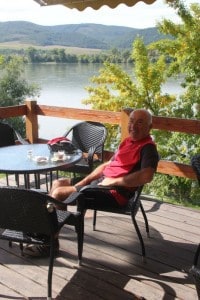 Much better weather today with lots of sunshine. However, the temperature has markedly dropped. After some confusion over English numbers, she said €30 for last nights so called dinner but actually meant €13  with the beers.
The basilica in Esztergom looks pretty amazing although unfortunately I cycled past more interested in the bridge which was only rebuilt in 2001, 56 years after it was destroyed, obviously the Hungarians & Slovaks did not get on with each other. (interesting Wikipedia titbit – "Patrick Leigh Fermor walked from the Hook of Holland to Constantinople in 1933/34. His book A Time of Gifts ends on the bridge"
A quick ride along a semi decent cycleway & road to the ferry. Whilst waiting I discovered the derailleur was really loose 🙁 so a good reason for cleaning the bike periodically and poking around)
After the ferry its a gorgeous cycleway with fantastic views of the Danube as it does a major twist through the hills, be interesting to see the huge boats navigate around the S bend.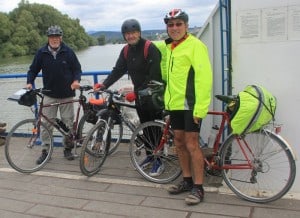 On the next ferry at Vac I met another pair of Germanic guys once again one  lived in Vienna but this time the other guy was from Munich not Bremen 🙂 One of them had  this time, like me, cycled all the way from Donaueschingen. Alas they finish in Budapest returning next year to go to Belgrade.
The hotel Centrooms House is a bit unusual been in a huge open courtyard on the first floor. It was OK, apart from the hum of some huge fan till 2am but it was very cheap & in the centre of bar life.
I make it that I've now biked 2678km since leaving Cambridge on the 3 August in 47 days with 12 rest days so far. Here's the Strava:
All the pictures for today are here