Last saturday Sally and I did the Yorkshire Three Peaks walk. A great walk it was too, especially tagging along behind two members of the LDWA who specialise in 100mile non stop walks. So we moved had a brisker pace and had fewer shorter stops than we are accustomed to with The Cambridge Rambling Club 🙂 The weather was very low cloud with 12″ or so of freshish snow on all three peaks.
The gadgets I was carrying where an iPhone5 with the Moves app running & the route in the Viewranger app (although not tracking). I also had the route stored in my Garmin etrex 20 which was also storing our track as we walked it. Finally I was wearing my trusty Fitbit Ultra.
I'm pleased to say they all worked flawlessly and all their batteries stayed live for the 11 or so hours we were out. I was also carrying my Canon 550D with a 18-135mm lens.
Moves
This is a very nifty app that automatically works out if you are walking, cycling or just sat in a vehicle! It works by using the internal GPS (battery only lasts a few hours) and also the various internal motion sensors. At the end of the day it produces a summary and storyline (see left image). For this walk (and to and froing  before & after) it gave a result of 58,499 steps, 25.7 miles in 10hours 29mins. You can also see the times we summited and the little stops we had.
I now use this app everyday the biggest disadvantage (apart from battery life – which to me is OKish)is that you cannot easily create a database of activity.
I kept the iPhone in an Aquapac case to stop water damage & also took a TeckNeti EP387 7000mAh external battery pack with cable. (Total weight 368gm)
Fitbit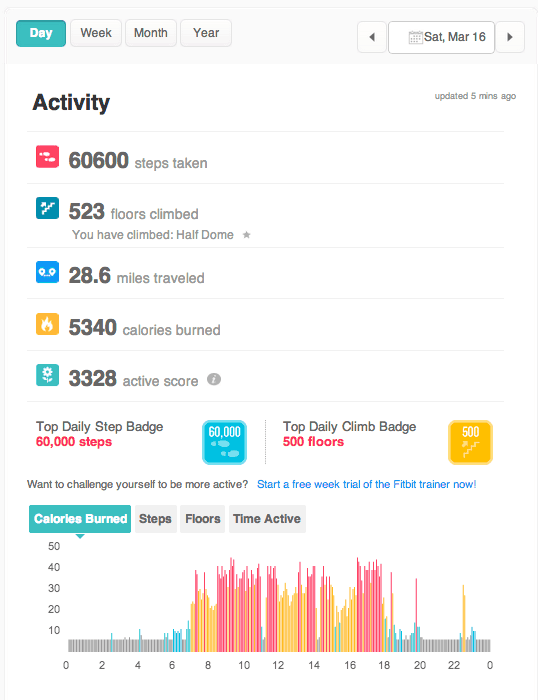 As anyone knows both Sally and I are obsessed with this amazing device.
This gave a reading of 60,600 steps, 28.6 miles. 523 floors climbed (5230 feet in normal speak) and 5340 calories burned over about 12.5 hours .  So it agrees very closely to Moves.
GPS
Using Ascent OSX app we get the profile and speed as: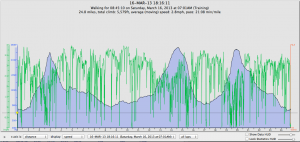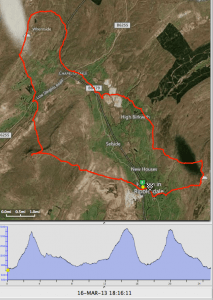 This worked out we had walked 24.8 miles in a moving time of 8hr 45min (average speed 2.8mph) with an ascent of 5,579 feet. So the other devices had a pretty good correlation. So the Fitbit really does work 🙂
All my photos of the days walk can be found here.
[pe2-image src="http://lh5.ggpht.com/-ITldxbLXubU/UUTDgYXvFBI/AAAAAAACTLA/RkSjJEAUIyE/s144-c-o/IMG_8415.JPG" href="https://picasaweb.google.com/111882957452855371846/20130316YorkshireThreePeaksWalk#5856020376553722898″ caption="" type="image" alt="IMG_8415.JPG" ] [pe2-image src="http://lh4.ggpht.com/-aI1a-or4HKs/UUTDkYfWVdI/AAAAAAACSxo/9ysuarfFNoQ/s144-c-o/IMG_8418.JPG" href="https://picasaweb.google.com/111882957452855371846/20130316YorkshireThreePeaksWalk#5856020445305132498″ caption="" type="image" alt="IMG_8418.JPG" ] [pe2-image src="http://lh4.ggpht.com/-vfKtIXBHppE/UUTDwEaXKWI/AAAAAAACSyI/4lQSqiWgBBI/s144-c-o/IMG_8427.JPG" href="https://picasaweb.google.com/111882957452855371846/20130316YorkshireThreePeaksWalk#5856020646073936226″ caption="" type="image" alt="IMG_8427.JPG" ] [pe2-image src="http://lh3.ggpht.com/-U20qzfWpX98/UUTDzrmUOaI/AAAAAAACSyQ/qNaw1-RyXNE/s144-c-o/IMG_8429.JPG" href="https://picasaweb.google.com/111882957452855371846/20130316YorkshireThreePeaksWalk#5856020708132665762″ caption="" type="image" alt="IMG_8429.JPG" ] [pe2-image src="http://lh5.ggpht.com/-VyIHfP-zfC4/UUTEWPFYSUI/AAAAAAACSzM/UJJKkPFcMcM/s144-c-o/IMG_8444.JPG" href="https://picasaweb.google.com/111882957452855371846/20130316YorkshireThreePeaksWalk#5856021301773748546″ caption="" type="image" alt="IMG_8444.JPG" ] [pe2-image src="http://lh4.ggpht.com/-wNwghhkLHIE/UUTFGR2GqhI/AAAAAAACS4s/3RJllI9OqCU/s144-c-o/IMG_8466.JPG" href="https://picasaweb.google.com/111882957452855371846/20130316YorkshireThreePeaksWalk#5856022127148706322″ caption="" type="image" alt="IMG_8466.JPG" ] [pe2-image src="http://lh5.ggpht.com/-oEUgnRkl8pM/UUTFJVg3OtI/AAAAAAACS0w/2gi-iBV4EqE/s144-c-o/IMG_8469.JPG" href="https://picasaweb.google.com/111882957452855371846/20130316YorkshireThreePeaksWalk#5856022179672963794″ caption="" type="image" alt="IMG_8469.JPG" ] [pe2-image src="http://lh3.ggpht.com/-bE_pthyfLb4/UUTFeHvqewI/AAAAAAACS1c/0Ip8AJO9vZw/s144-c-o/IMG_8480.JPG" href="https://picasaweb.google.com/111882957452855371846/20130316YorkshireThreePeaksWalk#5856022536754199298″ caption="" type="image" alt="IMG_8480.JPG" ] [pe2-image src="http://lh5.ggpht.com/–Ig4y1i2L-Q/UUTF_4BlvzI/AAAAAAACSuY/IDRkueWueEo/s144-c-o/IMG_8494.JPG" href="https://picasaweb.google.com/111882957452855371846/20130316YorkshireThreePeaksWalk#5856023116649971506″ caption="" type="image" alt="IMG_8494.JPG" ] [pe2-image src="http://lh5.ggpht.com/-ZwdvBagJzcY/UUTGucJrDUI/AAAAAAACTGk/HF40lfTRl7M/s144-c-o/IMG_8519.JPG" href="https://picasaweb.google.com/111882957452855371846/20130316YorkshireThreePeaksWalk#5856023916621532482″ caption="" type="image" alt="IMG_8519.JPG" ] [pe2-image src="http://lh4.ggpht.com/-mUqnVn3_KcI/UUTHGDoTM0I/AAAAAAACSwo/ZMFpIp2y4to/s144-c-o/IMG_8531.JPG" href="https://picasaweb.google.com/111882957452855371846/20130316YorkshireThreePeaksWalk#5856024322355966786″ caption="" type="image" alt="IMG_8531.JPG" ] [pe2-image src="http://lh5.ggpht.com/-MbqhPd9G6lk/UUTHJeYzCgI/AAAAAAACS5M/UaQY4OXFizQ/s144-c-o/IMG_8533.JPG" href="https://picasaweb.google.com/111882957452855371846/20130316YorkshireThreePeaksWalk#5856024381078309378″ caption="" type="image" alt="IMG_8533.JPG" ] [pe2-image src="http://lh5.ggpht.com/-wqm5H-dhe9g/UUTHKUXvPmI/AAAAAAACSw0/mMLp0k7jnQ4/s144-c-o/IMG_8534.JPG" href="https://picasaweb.google.com/111882957452855371846/20130316YorkshireThreePeaksWalk#5856024395569380962″ caption="" type="image" alt="IMG_8534.JPG" ] [pe2-image src="http://lh3.ggpht.com/-JSSMwjHa8LI/UUTHWgrIzQI/AAAAAAACSxQ/BBw-qpjJXMo/s144-c-o/IMG_8544.JPG" href="https://picasaweb.google.com/111882957452855371846/20130316YorkshireThreePeaksWalk#5856024605030403330″ caption="" type="image" alt="IMG_8544.JPG" ] [pe2-image src="http://lh4.ggpht.com/-DLzmt0xEgMY/UUTHZjoZcSI/AAAAAAACS14/tp0-eIDIl1k/s144-c-o/IMG_8546.JPG" href="https://picasaweb.google.com/111882957452855371846/20130316YorkshireThreePeaksWalk#5856024657363824930″ caption="" type="image" alt="IMG_8546.JPG" ]