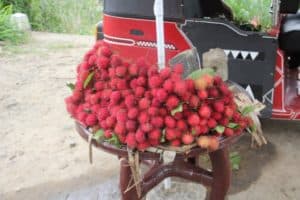 A bit later start this morning as Benjamin's mum had made breakfast for us plus I helped him fix his bike so he is mobile again. my first WarmShowers stay although I have hosted 3 couples back in Cambridge.
Bad news was that Three send me a text to say I had used 80% of my monthly roaming allowance in 13 days 🙁 plus I've also used up all the data I bought from Hutch on my dongle. So navigation today was just on the Etrex20, which I must say works really well, as long as you download the route into the NAV folder before setting off.
From the house it's downhill all the way to the university and then on pleasant side roads to the A5, I would imagine it was quiet due to the 25% hill which is probably to much for the trucks & buses 🙂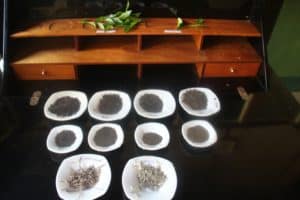 The A5 was busy and hilly 🙁 I stopped at a roadside vendor selling the very attractive Raputan red spiky fruit. I bought 5 from him, very delicious. Continuing on I came across the Storefield Tea Factory. After a cuppa of breakfast tea the guide then gave me a whistle stop tour of the old dryers, crushers, sieves and a quick explanation of all the names etc. Amusing to see the dust destined for tea bags and local consumption. Now I was 'expert'  i ordered up a Golden Tea – delicious 🙂 This where you need a follow up van so you can buy stuff.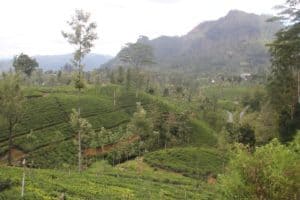 The hill then started big time so an ice cream was called for! The scenery is amazing with the mountains and green tea bushes in serried ranks as far as the eye can see. I fancied another cuppa and followed the sign but alas it was just a very rough track leading to the office and school for the workers kids etc all very colonial 🙂
Rain showers starting to occur more frequently so I stopped of at the Thuruliya Lodge to have a drink and admire the spectacular value I had just ridden up. The rain got worse so I took one of their rooms and called it a day after 33 miles and 3000 feet of climbing
The Photos are here and Strava here
The forecast looks awful for the next few days and it's still hammering it down causing the electric to periodically die. Tomorrows ride takes me up to 2000 metres.