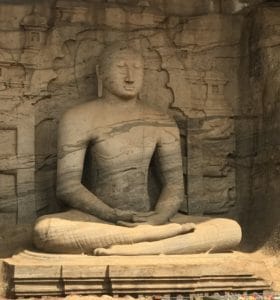 Some things I learned as a tourist in Sri Lanka today. I must remember:
Make sure camera battery is fully charged!
Wear shoes that are easily removable.
Wear a shirt that easily comes off, only applies to men 🙂
Toughen your feet up, as a lot of walking barefoot over sharp sand.
Make sure it isn't a full moon day or other local holiday.
Practice listening to Indians talk by calling Virgin Media help desk.
A relaxing day  visiting the 12C ruins on my bike with the guide on his motorbike. A bit of a pity it was a national holiday since there were quite big crowds of locals about 🙁 Interesting for me was this constant  removal of shoes and hats going from one set of ruins to the next. In the museum we all had to stand still for the National Anthem. One thing I may have learnt is the problems with the Tamils started when one of the kings married an Indian princess, so the wars predate British rule by several hundred years apparently.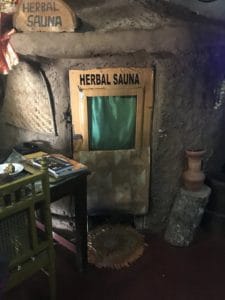 In the afternoon it was time for a massage 🙂 A TukTuk took me up the hill (where I'm biking tomorrow) to the Giritale Hotel and its therapy centre 🙂 It started with a Swedish, OK but not a patch on Sally's then straight onto a chair for an Indian Head massage 🙂 followed by a steam chamber, which all I could think of was that it was like the old Iron Lungs used for Polio victims in my childhood. (Thank goodness for the Salk vaccine!) Whilst in the chamber with my head protruding she massaged my face – OK but when the oil trickled into my ear I couldn't remove it , torture. Then it was straight into the sauna, barely warm but very quaint like a mud hut. After that I was shown the shower, paid my 3,000 rupees (£16) and went to grab a pretty good buffet lunch. After a rest and swim in the pool it was back to the Peacock  Vista .
A very pleasant day which seemed never ending 🙂 with all that free time.
Tomorrow I pedal further south.
The Photographs of the day are here and the mega 12 mile Strava is here