Tuesday, April 5, 2016
I left The Old House jut before 8am after the owner rescued the girl from faffing about on her ancient Windows PC trying to sort the bill out.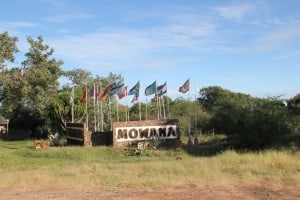 The day started with a brisk headwind as you can see from the flags image and a climb of cause. Reaching the main road I came across a huge queue of trucks waiting to get into Zambia. I turned of and went down the remarkably quiet road to the Zimbabwean border post, passing large troops of monkeys at the roadside.
At the border there was a queue of 3 trucks 🙂 so I just biked straight to the office. I must say I love these border crossings on a bike! No queues ultra friendly guys and all very civilised I handed over my $55 and in return my passport page was filled with a bright sticker (I later learnt that for $10 more you can get a visa that admits you twice).
So on I cycled I was surprised to see several trucks carrying loads of refined copper cathodes obviously from Zambia. Another interesting thing was no trucks were carrying containers. Lots of elephant dung on the road which I wasn't expecting. I didn't see any but an oncoming car stopped to warn me of a herd crossing the road 1km away so they are close. The only animal I saw apart from a dead snake was a poor tortoise in the road, I chivvied him up to get to the verge before a truck got him!
Finally I made it to the Shoestrings Lodge/Backpackers must say it was quite a bit worse than I expected with an uncomfortable bed and need of maintenance 🙁 Plus  decidely expensive since Zimbabwe lost its currency to hyper inflation in 2008 (Ten Trillion notes are sold by the pesky touts in the street) they now use the US dollar.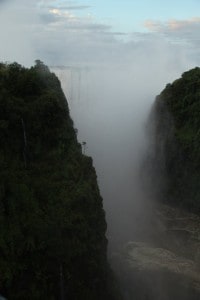 I discovered it was $30 for entry to the falls but you could get a glimpse from the railway/road bridge so I walked there followed by a group of touts offering banknotes/carvings/bowls etc Maybe the train at $120 for a 3km ride and dinner would have been better 🙂
The Strava shows I rode 53.3mi with 1,152 feet of climbing.
My pics of the day are here