Early Sat 28th November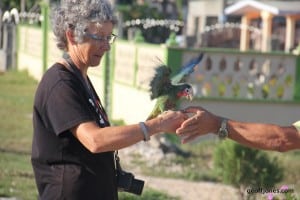 After our breakfasts I departed leaving the Dutch couple to enjoy there free day going around the nature reserves whilst I set of to find the museum and Playa Larga. The museum door was open but alas it was closed and wouldn't open for another 20 minutes or so (Lonely Planet says 8am in reality it's at least 9am). I decided not to wait but just take some pics of the aeroplane & tanks on the lawn outside, my guess is there will be a decent Wikipedia article on it.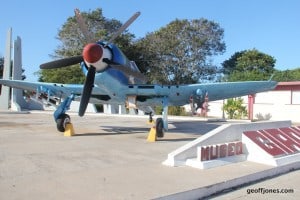 Riding along suddenly a huge crab sprinted across the road! Also there are many concrete block memorials (reminiscent for me of The Berlin Wall uprights)which I'm sure are where the guys were killed in the fighting, although they only have a simple name plate on them (alongside a couple of them were smaller tombs with a brass memorial plate with the date 17 April 1961).
Eventually after passing a few all inclusive diving centres I reached Playa Largo which for me seemed a bit of a dump so after a refresco I quickly moved on, leaving The Bay of Pigs to the youngsters and there snorkelling. Battling into the headwind I eventually came to Australia 🙂 where I stopped for another refresco & bread roll.
A young guy came over to practice his excellent English on me and told me his Aunt had an homestay in Jaguey also more appealingly I could get my Cuban visa extended in the town. Given I was getting tired I followed him across the motorway (well more like a deserted country road) into Jaguey. The bank exchanged $25 for the requisite stamps and then went around the corner to the Officina de Tramites to find it closed 🙁 so we went to his Aunts which seemed ok…
until 3am next morning when all hell broke loose in the adjacent house with cocks crowing and dogs barking until I finally left after breakfast at 7am 🙁 🙁 Awful!
So I continued into the head wind around truly vast fields of newly planted orange trees. Then into banana plantations. I decided against visiting Varadero as apparently it's just a tourist centre and so came straight to Matanza which turns out to be an excellent working town with lots of 'real' shops where I smile at the glorious mix up of retail categories, truly awful window displays and the bored women behind their little counters. Lots of houses that have lost their roofs and inners but with glorious facades.
With the help of the fire station I quickly found the immigration office and after some bureaucratic fussing about got my visa extended 🙂 Just around the corner was Hostal Azul, full but the owner took me back around the corner and put me in Hostal Vanessa, A delightful QUIET room with a bathroom that is 2 feet wide and 7 feet long 🙂 but unusually for Cuba a power shower 🙂
A good ending to a day that started so badly especially with all the places in Matanza selling chocolate helado at 3CUP per boule 🙂