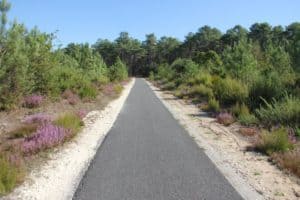 With a late breakfast I didn't hit the road until just after 9am but it was a totally gorgeous day without a cloud in the sky all day 🙂
Amazing to find real dedicated bike tracks for 90% of the day on the La Vélodyssée. It's lovely & smooth well marked and totally perfect. It's so cool not to have to worry about vehicles behind you.
Such a pity that we sold of all our disused railway tracks, government policy of the day to prevent any likelihood of railways making a comeback, they make such perfect cycling ways.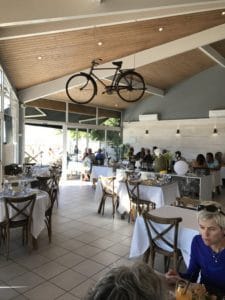 The only bugbear of the day was the headwind, all day from the south – the direction I'm going. Plus the lack of cafes since it was mainly through woodland. After the one litre water stop at Aldi in Montalivet Les Bains there was nothing for the next 36 miles to the very upmarket restaurant La Bicyclette Jaune in Lacanau 🙁 I slurped a one litre bottle of water in a few minutes followed by a totally delicious fresh fruit salad and ice cream.
The next stop was an Intermarche in La Vignas where a one litre bottle of some jogurt was summarily despatched.
Since I was making such good time I decided to progress further and booked The Hotel Delta in Biganos. Probably the best hotel yet on this trip – the shower was really strong 🙂 For dinner I pottered down to Malhibou Ananas restaurant which amazingly is run by an English lady!
The success story of the day was using the cyclema.ps app reall simple will suck in a gpx file and let you follow the route with the direction of travel in the up mode. It shows cycle paths etc and even with no signal you can still follow the route.
[ride id=728931338]
The Strava for the 77 miles covered and 597 feet of ascent is here
The pictures are on Dropbox here
The heart data from my Blaze is:-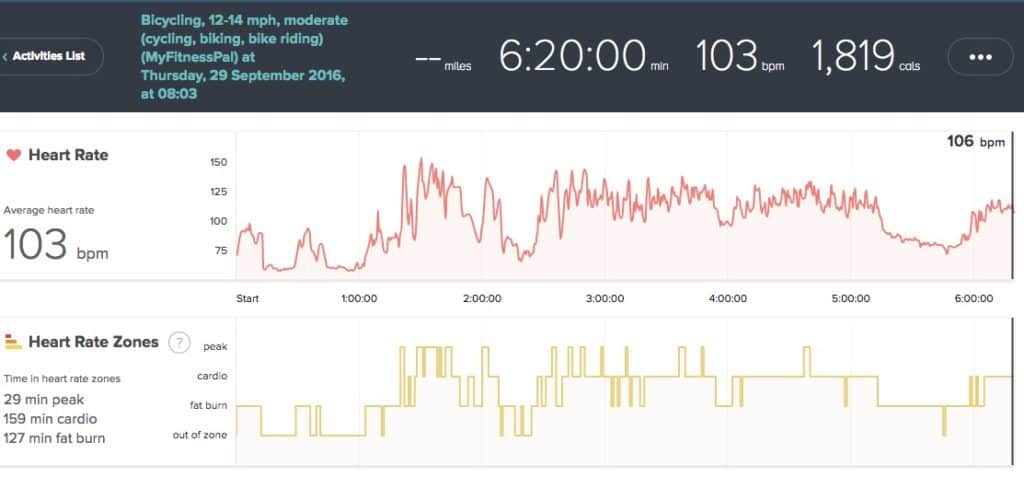 Associated Facebook posts: