Our Great North ride ended in Edinburgh a full 444 miles from Sally's back door. places we stayed at and distances travelled are:-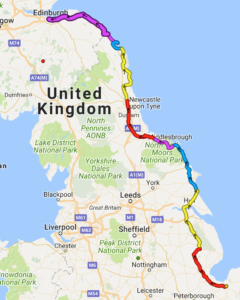 The whole trip was very enjoyable with reasonably kind weather a bit blowy in Yorkshire where I'm sorry to say the Esk Valley 30% hills, after the first couple, rather defeated us so we detoured onto the main A171 into Guisborough a surprisingly lovely market town with a good choice of eateries, unfortunately, the Gisborough Hall Hotel was very disappointing for Sally's birthday. Another market town of note was Horncastle and the delightful refurbished Admiral Rodney Hotel.
Our stay on Holy Island was excellent too, so quiet when all the day trippers leave 🙂 another highlight was remeeting John & Charlotte over a lovely home cooked meal in Newcastle ( I first met them when I was biking around Cuba). Standing in front of the Angel of the North was inspiring too.
After a very cross-country ride from Holy Island we bumped into Sally friends  Cheryl & Ash whilst we were watching the live action of Netflix making the Outlaw King film in  Berwick. Amazing to see all the detail to convert the quayside back a few centuries, fortunately, we found the last remaining b&b room in the town, winners of the TripAdvisor awards last year too! The final days ride to Edinburgh saw our first punctures of the trip, one each.
Edinburgh was excellent once the rain stopped and we managed a good walk up Arthurs Seat and a visit to the cornucopia of middle Eastern rugs etc in the aptly named Nomads Tent shop. My nephew's recommendation of Mothers India Cafe was excellent perhaps the best-organised restaurant I've ever been too.
The trains home worked well and I think Sally is now sold on the idea of multi-day biking carrying your own stuff!
Some pictures are here, please note more will be added later.