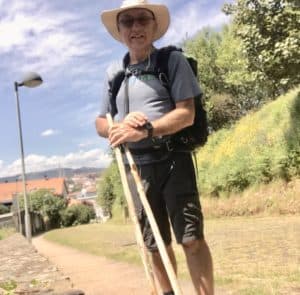 Since Colin was so close to his home and has obviously visited Santiago many times, I decided to walk the final stretch from Bandeira to Santiago de Compostella on my own.
I took up their kind offer of dropping me off 10km closer at Pont Ulla since the full distance is 32km, a bit much for an oldie with a full rucksack, especially with no breakfast.
At Pont Ulla I was immediately confronted with a 250metre climb up the next 3km 🙁 The route I downloaded seems to be for a cyclist since I lost all arrows and markers once in the wood. However, on the descent, they started reappearing where I met an American lady who has lived in Hannover for 40 years she recommended the "Wise Pilgrim" app and it did seem pretty good.
I met many more pilgrims in the next few miles who were completing The Sanabres route all were amazed that you could walk for 7 days and only meet 1 pilgrim 🙂
After stopping for a drink at The Bar Rosende (still no food though) I didn't see another pilgrim until Santiago and yes I was following a legit route with markers!
An excellent walk on traffic free lanes although I was getting pretty exhausted by the time I arrived at The NestStyle Hotel for my final night before returning home.
The Strava shows 21.6 km walked and an impressive 713m (2,339 feet) climbed

the day's pics are here: