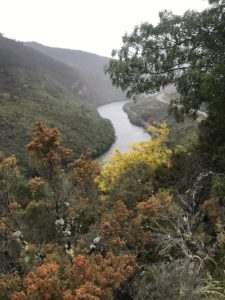 Once again as the Camino Walks it would have been 46 km from  O Barco de Valdeorras to our lodgings outside Quiroga our distance is governed by the lack of accommodation on the route especially for 3 pilgrims requiring single rooms, although it has to  be said we haven't walked past very many, if any other, accommodations that are open.
Fortunately for today Colin and I having Geoff with his Achilles tendon problem and Colin's car we not only get to have our bags carried but also can choose which bits to walk 🙂 Today we chose to walk from Montefurado to the outskirts of Quiroga a distance according to my watch of  just over 17km but with over 450m of ascent.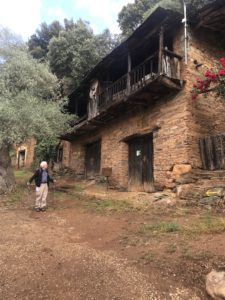 The views down the Sil River are magnificent as are all the ancient derelict houses begging to be renovated, in fact, we asked the sole resident in the street he immediately wanted me to buy his 3 bedroomed modernish house with amazing views down the valley for €50,000 so he could retire to Leon. 🙂
A very enjoyable day with the weather quite a bit cooler and the occasional light shower underfoot mainly on tracks and incredibly quiet roads.
We managed to find a lunch stop on the outskirts of Quiroga, the Meson Parillada O Ferreirino very pleasant and at €10 for a three-course meal and beer a real bargain. Then a short ride to our homestay lodgings Hospedaje Ferreria-Quinta with the two baby owls nesting in the old tree stump outside 🙂
Strava says we walked 17km and 456 metres of ascent in 4 hours 23min
Today's pics are here: