At last a fine day! the yellow Altura jacket didn't even make a guest appearance.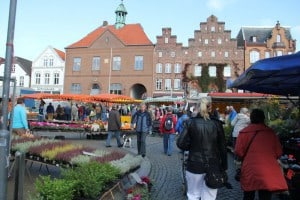 After a decent breakfast & long wait for a receptionist to appear I made my way slowly through the vast market which had popped up overnight in all the neighbouring streets. Incredibly busy streets and a laden bike make for an interesting time.
Miraculously I had the wind behind me and decent surfaces so of I flew back to the coast with blue skies.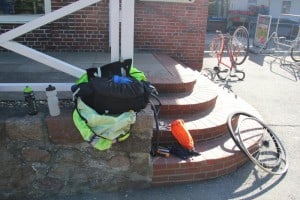 However, outside Am Nordstrand I got the sinking feeling that the air in the back tyre had found a way out 🙁 I pumped it up and pedalled on. I spotted a supermarket and went in for the obligatory banana, water & sorry to say chocolate. When I came out the tyre was flat and also I noticed the wheel had a broken spoke. I made myself at home on some steps in the sunshine, fixed the puncture and fitted a new spoke. I trued the wheel up best I could by making sure the wobble was smaller than the gap between the brake blocks.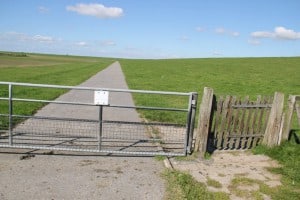 The ride afterwards along the water front below the dykes was superb smooth and quick, except for the stupidly annoying  gates every km or so that divide of the sheep folds 🙁 Where you have to push the bike through before the gate snaps back like a crocodile chomping the rear wheel. Obviously cattle grids are not a feature here 🙁
The whole area is a twitchers paradise especially I would imagine all the small islands just of the coast. Once you get close to Niebull you start seeing the vast wind farms, hat to laugh where they were experimenting painting them green to hide them 🙂
Entering Niebull I spotted a decent looking bike shop, Der Radladen, so while the lady booked me a room at Hotel Insel Pension, the guy fitted a super duper top rated Schwalbe Marathon Plus Smart guard tyre, tightened all the spokes in the back wheel and tightened the headset which had shaken loose. So the bike is ready for another thousand miles.
The North Sea Cycle Route looks a very interesting ride although with it going through all the most expensive countries in Europe probably quite an expensive 6000km ride 🙁 although it does go through Kings Lynn!
The day was 53 miles with the Strava here and photos here