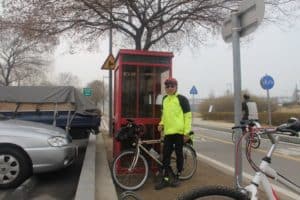 This was my first complete day on the 4 Rivers bike route and was it amazing! in fact stunning the perfect bike path. Although the weather was less than perfect with an ethereal mist over the views.
I decided to try my luck at the local bread shop again, a lot warier than yesterday when one of the innocent lucking rolls was full of ham 🙁 I succeeded with the balls full of some sweet goo. I really need a veggie guide to the bread shop.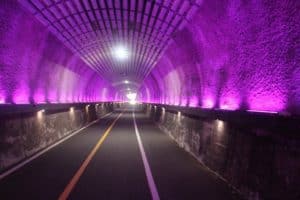 The ride started along the river on a perfect path with racing teams bombing along and lots of folks on the outdoor apparatus. The path wends it way around with none of the right angle bends found in other countries. Always traffic free (some tiny sections in front of stations are on quiet roads). In fact, you could use the trains to skip sections 🙂
The Cafe Lounge was ideally placed and as I was told on The Camino a cafe passed is a cafe wasted 🙂 After coffee and cake I started on the old railway line section and felt sad about the deliberate act of vandalism in the UK that old lines were flogged of piecemeal, apparently deliberately so they could never bee used again.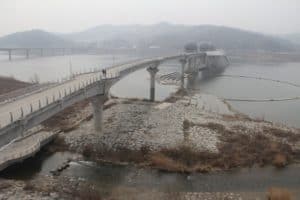 The next surprise where the "art tunnels"  totally stunning old railway tunnels converted into amazing lighting displays totally awesome. After the old railway line, I dropped down to the river again with an amazing boardwalk along the cliffs, full of folks walking. A short section went inland along a country road and up a Grade 4 hill whereI set new records for the slowest ride up 🙂
Later it was biking along the dams where I realised that one of my gloves had fallen out of my pocket 🙁 it was getting late so left it to its fate 🙁  This section has the amazing concrete bridges for bikes, apparently paid for by the water authorities! Such joined up thinking.
After just over 50 miles I decided to call it a day in Yeoju-Si eventually finding the I Love Feel motel not in the same class as previous nights, I was only offered a razer & toothbrush 🙂 plus I made the mistake about WiFi when paying, Im now typing this in the corridor at 2am
A totally fantastic day and just so great to see what a real first world country can do for cycling & personal fitness for the whole population, in fact, I kept thinking that it should be paid for from health budgets.
The Strava is here and photos here