Friday 12 June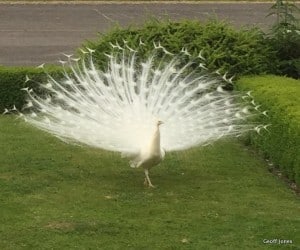 After a not much better sleep that in my tent 🙁 but at least with clean clothes & body I tucked into a breakfast of Brixham kippers, marmalade, toast and followed by fruit. George the albino peacock  provided a fine display of plumage outside on the lawn.
Euan was waiting for me in reception, we had arranged to meet up as he lives locally and fancied another attempt at walking with me 🙂 Our previous attempt was thwarted by an amazing mountain storm at Praz de Lys in France. Today promised to be better weather but much tamer terrain than he is used to walking!
We joined the Grand Union Canal in the 30 feet deep cutting at Tring, built in 1797 it was a major engineering feat at 1.5miles long. We started our steady descent, at Lock 42 I even saw a b&b notice, for the first time, on a lock house, amazingly it has no wheeled vehicle access!  It was very enjoyable walking & chatting with someone as knowledgeable about social networks as Euan.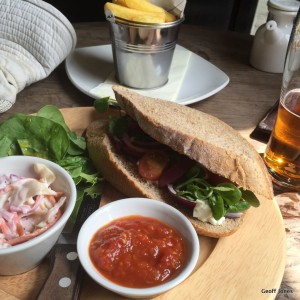 The weather although threatening rain held of until we reached Leighton Buzzard where no open cafe by the canal could be found. Euan scooted off to savour the delights of the Milton Keynes Apple store and I continued walking. Eventually i found The Globe Inn, an open canal side pub, serving food.
After a good few more miles (walking is really slow and painful compared to biking, especially on flat even surfaces) I eventually came to the outskirts of Milton Keynes and zig zagged through estates that are beginning to look very run down & slum like. I eventually found the X5 bus stop to get my free bus to Cambridge just as the heavens opened up.
I was pleased to be coming home for a while as my right foot blister was hurting plus my Saucony Excursion TR7 trainers are worn out plus the Osprey hornet 46 backpack shoulder straps are uncomfortable carrying 10kg. A visit to Open Air is called for.
Strava says I did 22.1 miles (to the MK bus stop) and burnt 3601 cals. Moves made it 26.3 miles (Inc walk back home) 54,087 steps and 2,316 cals whilst good old Fitbit said 57,650 steps 26.44 miles and 6,174 cals