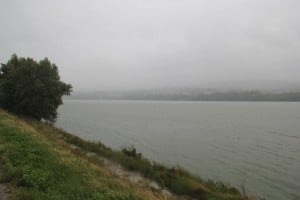 Yesterday's top notch cycling conditions were today replaced by heavy squally rain and temperatures down to 10 degrees 🙁 Plus the condition of the paths has noticeably detoriated.
The breakfast was disappoining but I guess it was cheap. First stop after getting kitted out in full wet weather gear was the Vodafone.hu shop to get one of their 1GB SIM's for £9. The transaction was easy enough, once the new SIM was installed I was expecting the internet to be there like Switzerland, However, after much debate & discussion it transpires they need 48 hours to turn on the internet 🙁 Fortunately there is a lot of wide open WiFi  here so I managed for today.
Then it was time to choose which side of the river to bike. The right Hungarian side seemed to have a lot of my hated artics with huge trailers so I went for the left Slovak bank with it's broken footpaths & Roman ruins. So back over the bridge I went!
It started OK with the rain easing off the path was very bumpy but passable. The Roman ruins were a bit uninspiring so after a quick walk around. On I went into loads more rain and the pathway detoriating with the sand & mud from the last few floods. I was tempted by the ferry, but to access the ferry meant sliding down a narrow ramp. I continued through the rain & mud eventually reaching a cafe with a pair of guys doing The Danube in 5 day slices over several years. However today was to much for them so they sent for the missus to come & rescue them in her car!
I left and continued in the rain  on a track with the mud getting deeper. Eventually I ended up pushing the bike through the goo and finding a way back to the road ;-( for a mud scraping session. By this time a gale was blowing behind me & I was wishing I had a spinnaker 🙂 The trucks blasting pass the other way were terrifying in the extreme as I was shot blasted with spray!
At Sturovo I saw the magical words Thermal Hotel and called it a day, washed the clothes and headed for the thermal pools to warm up. I booked a massage for 7pm. The massage was probably one of the most disappointing ones ever, even for €20. The guy had me lying face down for an hour whilst pummelling me and squeezing my very painful muscles around my ankles. It will be interesting to see what they will feel like tomorrow. Then it was off for an even more disappointing cold deep fried mushrooms, fish & potatoes for €11
I'm now booked into a hotel in Central Budapest via LastMinute.com so here's hoping for a better day.
Today's 34 mile ride makes it 42% of The Danube bikeway completed. Here is Strava for the day.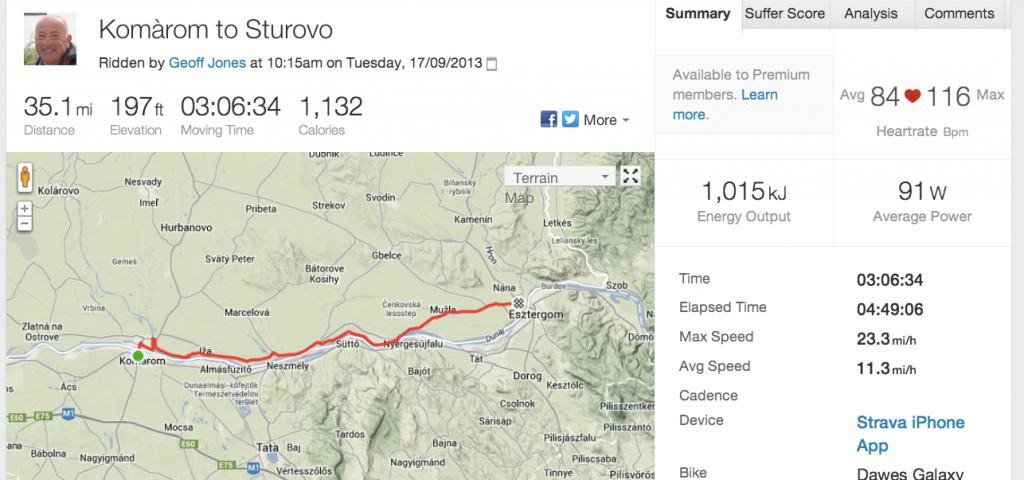 The photos are here