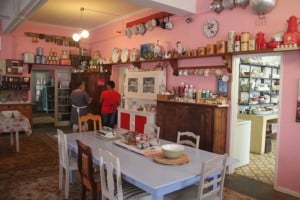 Well Sophia's Guest House came up trumps with an excellent breakfast for me, such a pity that the Harley club had booked the place out so I couldn't sleep there. With a final top up of drinks and sweets at the new 24 hour petrol station I was away with the good name of Garies restored in the memory banks.
The climbing started as soon as you leave Garies and is relentless 7,000 feet in total for the day. In the end the bike had basically two gears the lowest for climbing and the biggest for the descents, there was minimal flat cycling. Nearly 50% of time was below 6 mph at the other extreme 4% was over 25mph.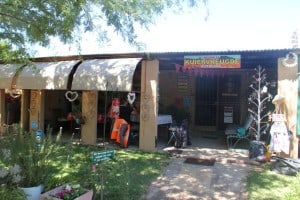 Fortunately at Kamieskroon everyone was proved wrong and the delightful cafe was open so I could slurp down 1 litre of cold grape juice whilst listening to motor bikers saying just how tough sitting on a bike is 🙁
Then it was through yet more roadworks. South African roads, the tarred ones at least, must be the most cared for in the world. Onwards and upwards I went peaking out at 3000 feet. So at some point I have a 3000 feet descent to go down for free 🙂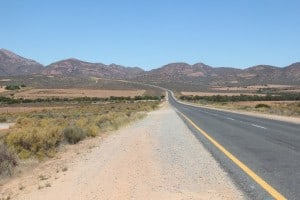 The end was crippling as I could see the caravan park across the way but the only access was to go up the hill, over the main road and back  down again all accompanied by the smell & flies from the local meat factory 🙁
The Rondawel (imitation circular mud hut) was like an oven 🙁 There's no food on site but I cajoled a very sweet elderly caravanning couple (their son is 57!) to drive me into town for food amazingly they even paid for my dinner a great ending to a tough day.
Just a pity the flies took a fancy to me all night 🙁
Strava says I did 75.3mi in 8:12:16 Moving Time and  6,999ft climbing.