Tuesday, February 27th, 2018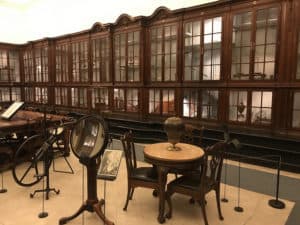 Following a previous comment on this blog from my friend and former wealth creator Pete. I decided to visit Coimbra the site of Portugals oldest university founded in 1290,  Not Europes which is Bologna in Italy founded in 1088, btw Cambridge is 1209.
I decided, thankfully, to leave the bike in the hotel and take the train and walk around Coimbra. My Old man's fare was €22 return. The train was an InterCity and interestingly had space to hang two conventional bikes at the end of each carriage we smoothly went along at 200kph so the trip only took just over 2 hours.
The university sits atop the hill so a fair climb up cobbled streets initially I wandered about the geological part of the museum looking at what I guess is their first geological map some 90 years younger than Smiths UK one.
I eventually found a formal tour around the science bits of the museum. It's like a museum of a museum, everything is as it was labelled probably 100 odd years ago! Interesting in itself but no life in the exhibits at all. I just hope when the New New Cavendish gets built we will get a decent Physics Museum in Cambridge. Wouldn't it be incredible to convert the original Cavendish back as it was with working replicas of the original stuff, pity they demolished the original DNA lab to make hideous bike racks.
The science then moved into Zoology with there collection of stuffed animals seemingly a focus on animals with two heads!
Later I did a little tour of the ornate Baroque Library I wonder when the last time a book left its shelves.
The town itself is a retail museum with shops out of the 1950's full of counters with drawers and boxes with I thought way to much formal garb but incredible fruitcake in the cafe.
An interesting day out especially meeting Vasco on the train home who let me share his taxi from the station in the rainstorm back to the hotel.
Loads of photos here: