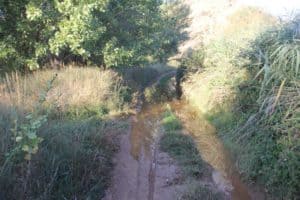 Today started with no real breakfast as all, as the Auberge was only offering a coffee and a cellophane wrapped bun 🙁  But I guess for €25 a night it's all to be expected.
At 8.15 outside it was a cold morning, only 7 degrees which in shorts & tee shirt is cold! I had to put my rain jacket on. In fact I didn't get warm till 11.30 with the sun out full blast. Adding to the cold was the fact I couldn't find a bread shop 🙁
For some reason at Luco de Jiloca the route left the N-234 and took me down some of the worst stony lanes yet! At one point it was pedal height in water 🙁 I at to persevere for over two miles before I could hit the tarmac again 🙂
It wasn't until after 22 miles I found a bread shop and cafe open in Monreal del Campo quite a thriving community compared to the very poor villages like Baguena. All stoked up even with a banana and an apple I set of warmed up at last.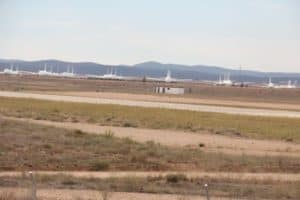 The route was then a totally deserted road to Villafranca and its rather empty bread shop & rather sad bar, Later I found myself on yet another old rail track going around  the huge chipboard factory and then going past the Caude-Teruel Airport apparently it's used for storing upto 225 aeroplanes 🙂
Finally it was a 500 foot drop down from 3,300feet to Teruel plus a pedal up through the town to the Hostel Aragon, a great find right in the centre and very adequate accommodation, The town itself has quite stunning architecture and feels very prosperous,
The 61 mile ride and nearly 1000 feet of ascent is on Strava
I tried uploading pictures to my SmugMug account here, but alas it has gotten itself all screwed up 🙁  So it's back to Dropbox here, but I'm still seeking some software that will display the location of the images on a map like Picasa used to do 🙂
The heart rate is here: