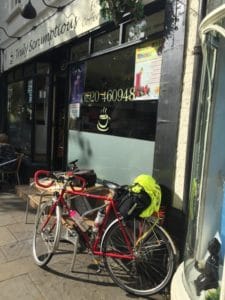 I finally set off from home at 12.34, according to Moves, on my latest bike ride heading towards Weymouth to get the ferry to Jersey and then St Malo. Hopefully getting to Ibiza and Morocco.
Todays ride ended at 18.10 at my daughter's flat in London after a pretty exhausting 52 miles at 10.9mph. Perhaps it wasn't a good idea to do the 600 yard swim first 🙁 plus the SW headwind didn't help. The front gears on the Dawes Galaxy also aren't shifting properly, apparently the mechanism isn't suited to click shifts 🙁
Tomorrow it's a ride through Central London emerging at Farnham, probably better than riding through Hertfordshire lanes with Chelsea Tractors being driven at high speed by mums collecting their little dears.
My Strava for the day is here