Sat 19th March 2016
I've now given up on the route described by Thomas Anderson in his excellent blog. Basically me and my bike can't hack the dirt roads or more precisely the sand -(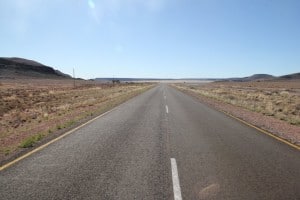 So today I sped along the gorgeous tarmac road towards Keetmanshoop. A fantastic 104 miler comfortably done under my own steam and easily in daylight! (7.30 to 4.30 including stops). I had booked into the Seeheim Hotel otherwise I might have done the extra 40km to Keetmanshoop.
I had a fabulous farewell from my SA farmer friends as their convoy overtook me hooting & waving. The road was pretty well deserted the rest of the day only an odd car and truck. No wind and slight downhill for long periods as I dropped from 5000 feet to 3000 feet.
Towards the end of the day as you get closer to The Fish River the hillsides became clothed in a fragrant yellow flower (Double Kiss in Afrikaans) and greenery started to appear.
A good day's riding 106.4miles in  7:51:50 Moving Time and 2,139ft of ascent  The pics are on Google here