I left the Kuiburi Hotel & Resort  in a bit of a huff & rage at their incompetence, so I never had the breakfast I ordered due to the 'urgent' call from reception asking me to attend to the fact I had partaken of a beer & crisps from my room – I couldn't face going back to the breakfast room as I was convinced any omelette would have come stuffed with ham anyway.
So it was almost 7am before I hit the road 🙁 my back tyre still had a slow puncture so once I arrived in Prachuap Khiri Khan I endeavoured to find a fixer, but I was out of luck so I pumped it up and kept going. A bit later I found a moped garage in the countryside who found the problem was a leak at the base of the valve so impossible to repair with normal patches, but maybe the liquid stuff would have worked? So I had to use one of my precious new inner tubes,  we also  discovered the back tyre is in dire need of replacing after only 1,600 miles 🙁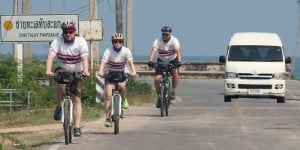 Whilst cycling along an unavoidable section of the dreaded Highway 4 I happened upon a small group of slackpackers travelling with Grasshoppers cycling tours during one of their regular breaks. Seen , their leader, guide, translator invited me along with them, so I thoroughly enjoyed my next few hours with Howard, Kevin & Heather as we stopped for lunch and had cold water breaks with their backup van. We arrived at the delightful Baan Grood Arcadia Resort  with me cycling just under 65 miles. In the evening we had a glorious spread on the beach tables, where Howard treated me to a beer 🙂 🙂 So a great ending for the day.
The Strava is here: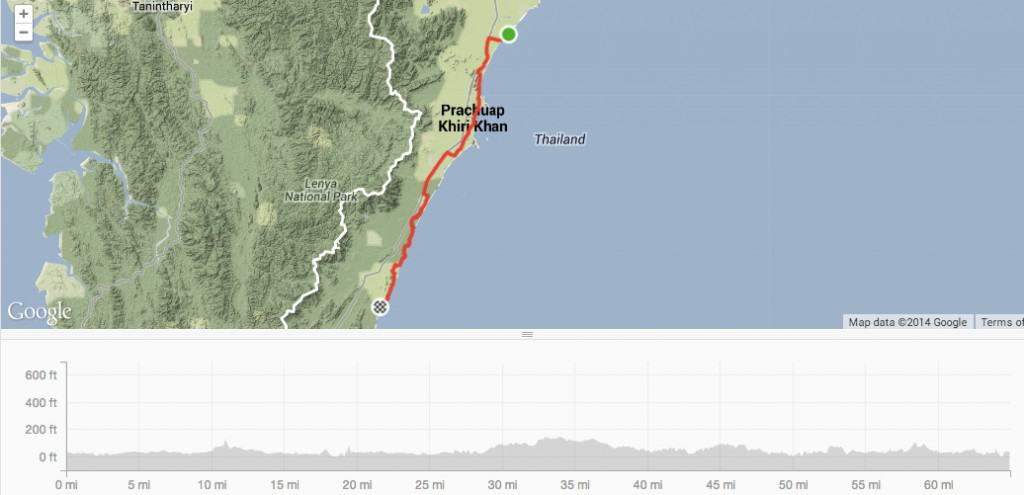 and the pictures here