Three different hotels too – it appears whenever I book into a hotel it instantly fills up for subsequent nights I never realised how famous I am 🙂 However, The Windsor Suites Hotel on my first night was hosting a Latino dance festival and the Coco@20 filled up with weekend punters.
On Saturday I decided to do the Bike Historic Bangkok Tour offered by Grasshopper Adventures from their new base in Bangkok imagine my surprise when I arrived that it was being led by Seen who I had met whilst cycling from Kuiburi to Baan Grood in 2014. It was an excellent tour of 11 miles (although I added an extra 5 miles from my hotel), culminating, for me, in a visit to the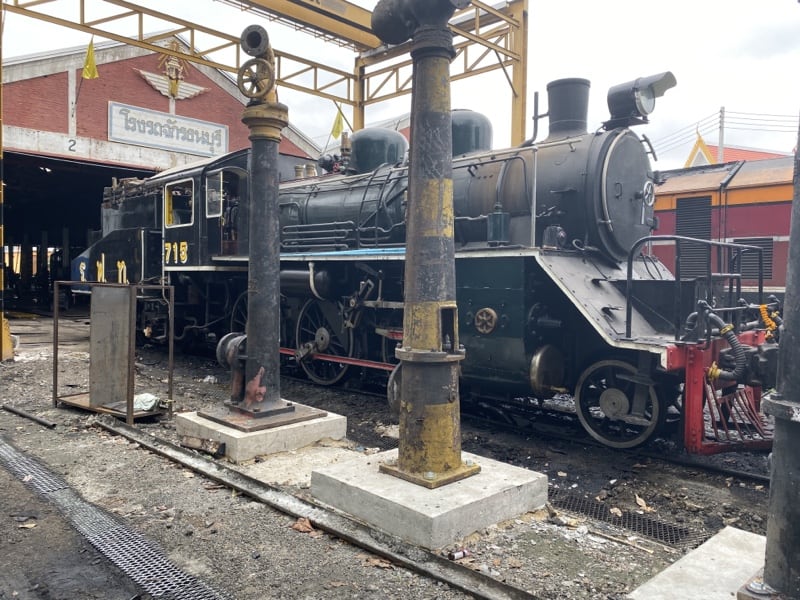 loco sheds to see the steam engine that featured in The Bridge over the River Kwai. Whilst doing the tour the German couple pointed out their hotel on the canal front a quick call by Bettina and The Lamphu Tree House was booked for Saturday night also Seen mentioned the original Capital was at Ayutthaya which is 80km upstream so that's tomorrow's ride sorted!
The evening was disappointing as I missed the hustle & bustle of the new city especially the decent massage places the one near the Lamphu hotel looked decidedly dodgy.
Other pictures