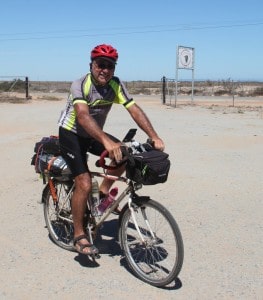 I managed to get a £2 haircut at the hotel after breakfast and then stocked up with drink before setting out at 9am on the coast road. Just outside Velddrif  there was a lovely new thatched beach restaurant, Soverby Lapa, which I couldn't resist taking a closer look 🙂 It was so gorgeous sitting on the deck with a cool ocean breeze. I could easily have stayed all day admiring the view & eating Malva pudding.
However, I had booked my b&b so kept on going past the rather attractive but all to twee estate at Slakkepas safe behind its gates & razor wire. Cycling on I came to a delightful farmstal, time for another drink and a chat with a van full of locals on a day out. One of them, Kevin Large, was apparently a photographer so I gave him my camera to get some action shots 🙂
I eventually came to the 500 foot climb where my front derailleur started to play up in not getting the smallest gear 🙁 there's something to be said for the old fashioned change levers rather than these click things 🙁  followed by a lovely drop down into Elandsbaai.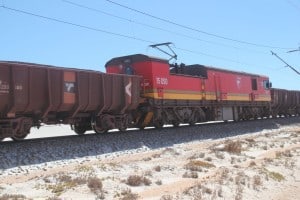 I then followed the railway dirt track road for 20 or so miles a bit of a nightmare especially with the corrugated service and odd cars, trucks bombing past. However I did get to admire one of the iron ore trains about 2.5 miles long with 8 locos two of which are intermediates! pulling over 34,000 tons of iron ore!
Eventually I hit tarmac again in Lamberts Bay and quickly found the Sir Lambert's Guest House and its yappy dog but Port in the room :-). Followed by a walk into town to get my fish & chips at Isabella's on the Quayside in the wind which is now turning really cold in the evening at least 20 degrees!  The little island which for R40 you can walk to has apparently the highest density of gulls in the world 🙂
Strava made it 59.5 miles with 1597 feet of climbing at an average speed of over 11mph.