Wow that was a hilly day! well over 6,000 feet of ascent (thats 1.5 times up Ben Nevis).
The day started well and fine, the promised rain stayed away thank goodness. The main climb to 2,017m started straight away 🙁  a 3300 foot climb. The first stop was Blue Field Tea plantation tea room, nowhere near as good as yesterdays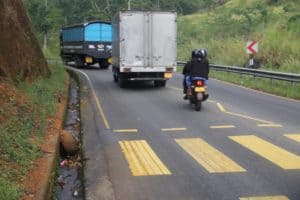 The road up is a bit of a nightmare with a deep concrete culvert down the left side and even worse a tarmac edge a couple of inches away. This means when the trucks/buses push you out of the way there is no where to go 🙁 particularly true on the left hand hairpin bends 🙁 I made it by judicial stopping if I heard a truck grinding away near by. The way up seems never ending with a big wind undecided as to help or not. The most amazing thing to me was the vast selection of vegetables for sale at the roadside.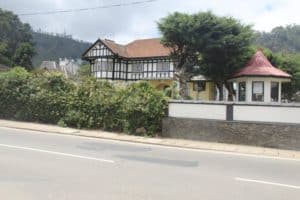 The top was pretty cold (for here anyway) so I didn't hang about dropping down to Nuwara Eliya which the English tried to make look like Surrey with it's race course, boating lake and huge houses. I stopped to try and top up my dongle 7GB for 80 rupees (although it stopped working tonight so maybe it was only a few MB 🙁 ) and get some lunch. I found the place really cold so decided to keep on going down.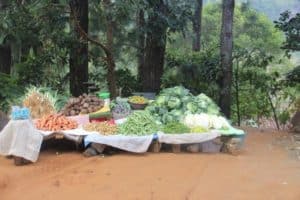 Fantastic ride down with many  steep ups as well, the road was newly made, possibly due to landslides in the past, and a joy to go on. I stopped at Uva Haputale I saw another tea factory, alas not open but next door was a cafe 🙂 amazingly his tea was Lipton tea bags, he couldnt understand why anyone would want the teas from next door 🙁 I guess it's asocialist country.
I was beginning o panic a bit going through ever small hamlets with no hotels in site. Eventually I made it to Bandarawela and after some trouble found The Mountains Edge Inn although trying to get the lady to understand was another story!
The whole day was really enjoyable and the scenery is just staggeringly beautiful 🙂
The Strava is here and the pictures here