A much warmer day in fact a thermometer I saw was reading 26 degrees at noon 🙂 Although when the sun went behind a cloud it soon dropped.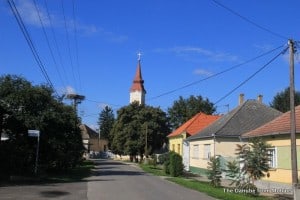 The first bit was through quite pretty villages all supporting a clutch of local shops & a Spar or Co-oP.  Then it was back up to the top of the flood bank with its variable surface status, although they are trying to make it all ultrasmooth so that you will be able to rollerblade all the way soon.
I'm getting a bit fed up of the dikes as when you are up there all you can see  on one side is a line of trees protecting the banks of The Danube on the other side a landscape akin to the fens.  So maybe I should start taking the longer routes through the villages. Baja had quite a pretty waterfront, once you had left the heavily graffitied housing estates, the only problem is that I chose a bar that didn't serve food 🙁  Whilst enjoying my drink in the sun by the river I thought it would be good to Facetime the kiddies, which worked perfectly in New Zealand, now it is almost useless due to those those damn patent trolls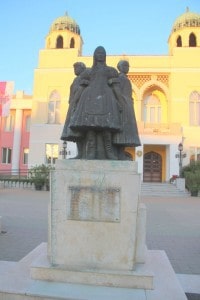 Mohàcs seems a good little town lots of pensions,  hotels, restaurants, bars & shops. The sculpture of three women in front of the town hall is intriguing, if only I could read Hungarian. It's a pity I didn't explore the place before checking in at the Szent Jànos hotel by the ferry, It's a nice enough place but I'm sure the others would be cheaper.
Here is the Strava for todays 63 miles making it a total of 1,674 miles since leaving Cambridge. The pics for today can be found here