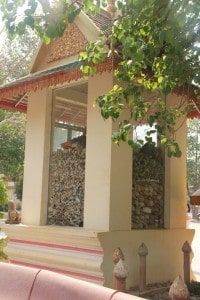 I downgraded to a Tuk Tuk today to check out the local gruesome killing fields memorial here in Siem Reap at the Wat Thmcy temple. Totally stunning to think that the capital city was emptied of people and that around 2 million folks were murdered or 25% of the population. Even worse for me was the poor two year old kid laid out at the entrance with an adult who had the most  monstrous sized head ever & tiny body apparently it's hydrocephalus  🙁
We then went into town to look around, so I can say been there done that, if beer swilling & tourist junk is your thing then it's great. I had a manicure but wasn't in the same league as the one I had in Hanoi. I retreated back to the comforts of my 5* hotel,  it's gorgeous pool,  friendly staff & excellent internet!
Getting out of the Tuk Tuk I must have dropped my wallet which I didn't notice for several hours 🙁 However, one of the staff had spotted it and handed it to reception – phew, 🙂
I decided to try a Swedish massage at the hotel but I know something it didn't even come in the same league as one of Sally's. I think the girl was a beginner 🙁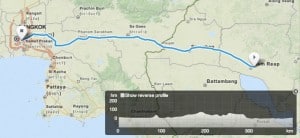 Tomorrow I move on towards Bangkok which is 400km away, there are some places to stay in Saophoan at 100km so I should be OK, although it's the busy 6 road. I found an opticians in Bangkok to replace my spectacles so it gives me somewhere to aim for in that vast city.
Today's gruesome photos are here.