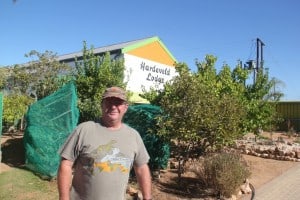 After sleeping like the proverbial log I awoke to a magnificent full on breakfast cooked by Kobus, really excellent 🙂 He gave me the low down on the way and made sure I left with over 3 litres of water & pumped my tyres up with a proper pump. After taking my picture for his rogues gallery of cyclists who have stayed there in the couple of years he has owned Hardeveld Lodge  (Looks like I will be 104+-) I was away.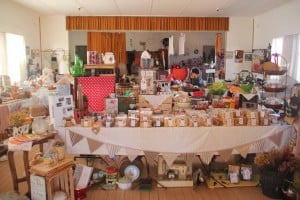 The road is hilly of cause 🙂 with no cafes at all until I reached Bitterfontein and its delightful cafe come antique /farmstal / trinket shop housed in the old community hall. Excellent 🙂
I ploughed on stopping at every roadside table (alas no food or drink provided) up and down endless hills nearly bypassing Garies like the N7 road builder did!
I found the previously booked by Kobus, Garies Guest House apartments and checked into my OK room with kitchenette etc. I went down to the neighbouring Sophia guesthouse to make sure I was booked into breakfast 🙂
Then it was time to find some dinner, total nightmare. The so called hotel first said they only did meals for residents after some cajoling by the alcohol shop girls I was shown into the very dark & dingy dining room with it's numbered bays. No menu but I could have lamb chops with chips or burger with chips. No vegetarian option. I left, to be chased down the street but to no avail. So I went to the only shop open with it's bare shelves to buy some pasta etc. The whole evening was surreal to think, I've travelled less than 100 miles in the same country and gone from abundance to poverty. Interestingly the ANC have an office here, first time I've seen one. Maybe Castro & the ANC have something in common.
I biked according to Strava 50.2mi with 2,565 of hill grinding
A few pics here
Tomorrow looks like a bit of an epic day if this guy is anything to go by! He has only just reached Victoria Falls too