First apologies for the whinge about lack of readers in my previous post. I totally forgot what a sophisticated bunch of followers that I have! with Feedly reporting 71 folks have signed up to my RSS feed plus on Friday my readership leapt to 191 readers according to Jetpack.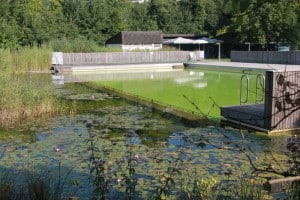 The ride started of as a very pleasant route along the river Aar, I loved the swimming pool embedded in a pond thus allowing natural oxygenation and purification without chlorine etc. Very green in more ways than one. It's very interesting to see the low tech way of hydroelectric generation on the Aar, every 6 miles or so there are hydraulic barriers that raise the water level by 10 feet or so, the water then goes into low head turbines. In the towns these are disguised as pretty buildings. Neat & no huge dams & lakes needed.
I loved the town of Baden so picturesque with its medieval covered bridge, cobbled streets and old buildings.
In the afternoon it was a very zig zag course into Zurich where I kept taking wrong turnings. It's a fine balance either looking at the iPhone or searching overgrown hedges for signs. But I made Zurich.
I set off to search for my brother, unfortunately the address I had for my nephew was wrong and even worse it was 3 miles walking in the opposite direction wrong 🙁 However, I did get to see the brand new Tesla showroom, the Apple store & managed to procure a new 8GB uSD card for the Garmin. I eventually made contact with even more confusion over timings but we eventually made it to the  Zeughauskeller restaurant 🙂
Total mileage done is now 994 miles with 95 hours in the saddle.
Here is the Strava for the day: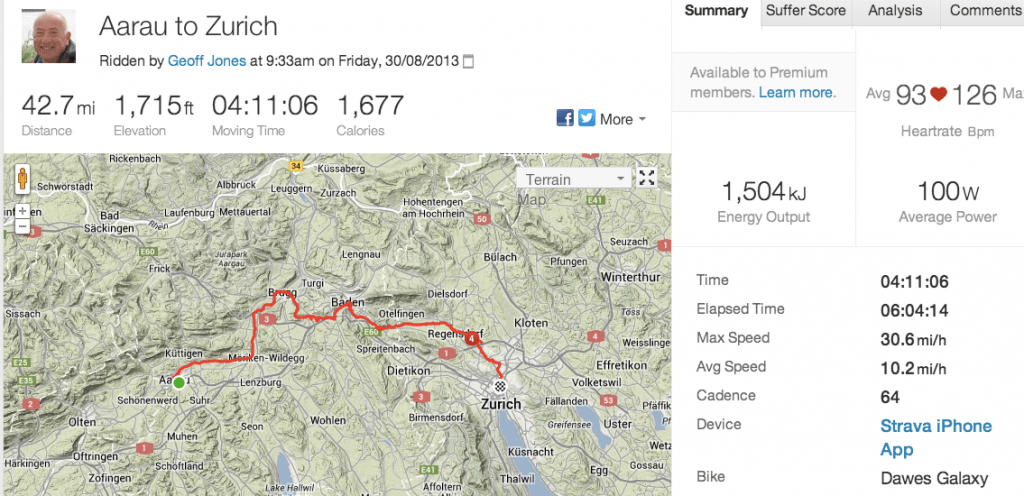 and the pictures