Wed 30 March 2016
After not a very good sleep I woke to find no promised breakfast, a total absence of vehicles or any sign of life in the courtyard. So at 7.45 I departed from Monlek Lodge with not very warm feelings towards it's owner, especially since my 15 Pula change never appeared after paying last night 🙁
The local shop was pretty devoid of edibles so I made do with a bottle of milkshake and a couple of my chocolate bars. A chappie in a pick up gestured to his mouth as I was leaving the village but I couldn't be bothered returning. Cycling was hard especially with the quite strong headwind and that my legs hadn't recovered from yesterday's mega ride.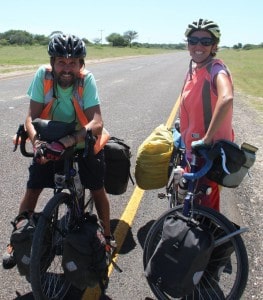 A pleasant relief was bumping into Scott & Sarah who are biking from Paris to Cape Town. They, obviously, were enjoying the tailwind! I was totally gobsmacked that both of them were riding fixed wheel!!!! Carrying all their camping kit and days of rations, especially since they had come through the very mountainous Ethiopia. Incredible, they do, unsurprisingly, take week long breaks throughout their journey. Their website is at no fixed destination a pun on riding fixies 🙂 They said during their stay in Maun they had met several other long distance bikers.
I pedalled on….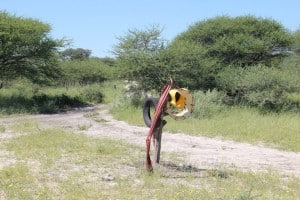 Lots of signs of budding entrepreneurs with their roadside tables selling cold drinks etc from their ice boxes. Just love to see this sort of thing wondering which of them will become the next Tesco or Walmart! Also the ingenious way of marking where the footpath is to their house with a collection of old objects on a stick!
Eventually I made it to Senthanga Lodge having biked past it and overshot by 4  miles and having to retrace my steps 🙁 First time it's ever happened to must remember to never use Apple/Google maps they are way to unreliable. OSM is so much better 🙂
Strava says I did 67.6mi &110ft of climbing at an average speed of only 9.7mph – time for a rest!