Very early Thursday 26th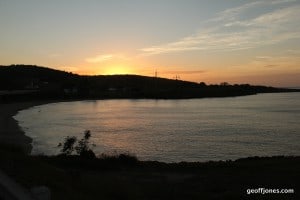 With yesterdays 100 mile epic ride from Trinidad to Playa Giron I now have over 1,000 miles on the clock 🙂 OK, the conditions were favourable with temperatures in the 20's and a good wind most of the day, smooth empty roads, and with the nearly 3000 ft of climbing mainly on the first section to Cienfuego.
I must have been refreshed after my day off lazing in Trinidad a town I quite enjoyed as it still has, for now, many original shops selling a bizarre range of products like micro Homebases although of cause mass tourism is affecting it with shops selling tourist tat quickly taking over and buildings getting renovated and smartened up to appeal to olde worlde tastes.
The previous days short but hillyish ride from Sancta Spiritus to Trinidad probably helped too. Interestingly I met at a refresco stall two Canadian guys from Toronto (4 hour direct flights to Trinidad) on their uber smart racing bikes who use Trinidad as a winter training base in fact later on 4 other guys came racing by.
Also in Trinidad I bumped into the 3 German girls who I had previously seen at the Yacobe campsite two of them had suffered with severe diarrhoea as well, our conclusion was it was the green beans 🙁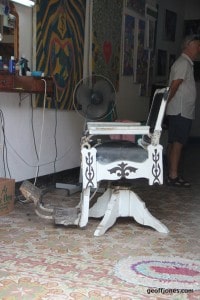 I also had a shave and haircut in Trinidad. Abel Garcia Leon is a fourth generation barber and uses the same chair as his great-great grandfather bought in the 1880's.
I set of from Trinidad really early in the dark as I couldn't face another disorganised breakfast and in the process discovered both that hills are really easy to climb when you can't see them (and cool) and also the delightful La Vega roadside restaurant amazingly fast service and excellent food. In fact Exodus use it for lunches, I passed the cheerful Exodus group a couple of hours later, a bit strung out with a poor guy struggling at the rear with the back up bus almost pushing him up the hill.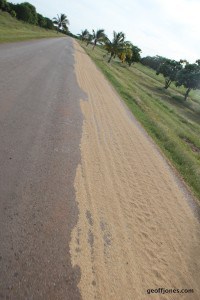 Coming into Giron you cycle past miles of rice being dried on the road and then scooped up, with any debris, and bagged an incredibly labour intensive process.
Here in my homestay in Playa Giron there are also a Dutch couple cycling around Cuba, in fact they seemed to have cycled in most countries of the world 🙂 They told me about the little museum here dedicated to the Bay of Pigs fiasco so hopefully I will get to see it after brekkie.
All the rides are on Strava https://www.strava.com/activities/440461990