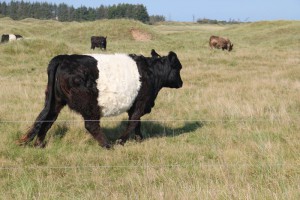 After an excellent nights sleep I awoke to a calm sunny day. I went to find the guy to pay – eventually I located him having a coffee in the enormous sports hall, swimming pool next door. They didn't seem to do real breakfast so I went to hunt for a cafe in  the out of season ghost town that is Lokken. No wonder I had the hostel to myself last night! Eventually I found the bakery was open with a breakfast option, so a coffee, orange juice a couple of bread rolls with cheese and a Danish pastry later I was on my way. First port of call was across the road to the huge SPAR and the usual days refreshments..
The route was a total mixture of surfaces from smooth pathways to sharp descent/ascent of a sandy path (not good at all). I even came across some other cyclists, the first for several days. Plus a whole school of desultory kids obviously out for some nature walks in  another part of the forest a whole load of little kids were out on their mountain bikes. I particularly liked the cow with its zebra crossing markings.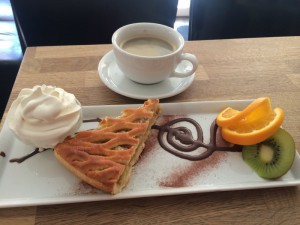 At lunch time I found myself in the big ferry town of Hirtshals with open cafes!  I went into Cafe2 to have a coffee and some apple pie – I came out reeling at the price £10.18p at the current exchange rate 🙁 I think they must cater for the Norwegians from the ferries. On I progressed through forest tracks, paved towards the end with racing cyclists bombing along on their evening workout.
In Skagen I went to the Ferie På Toppen Hotel which fully deserves it's low rating on booking.com especially as the guy charges an additional 100 crowns for the linen & towels 🙁 I rang booking.com to complain but apparently it's in the small print somewhere that they charge. But no mention of 100 crowns extra on a 350 crown room 🙁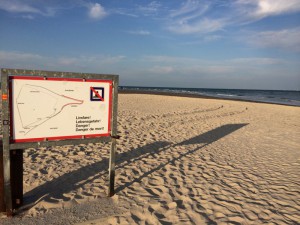 It was such a lovely evening I decided to bike, leaving my saddlebag, to the end of Route 1 in Grenen and walk to the tip of the peninsular & celebrate my doing another little video.
Today I biked 67 miles, which means since leaving Cambridge 23 days ago I've biked 1,261miles (2016km) Now to bike part of the way down the East coast on Route 5 and then across to Esbjerg for the ferry home.
Todays Strava's are here and here with some pictures here
With yet another bonus video here: