Today was a late starter after a late night on the computer and a totally yummy breakfast at the Leo Mar Hotel. I decided to experiment returning my PET bottle, all you do is put the bottle in a machine that scans & if it is PET crushes it and gives you a 25cent printout against your next purchase. This makes the cost of 1.5litre of fizzy water for £0.16 🙂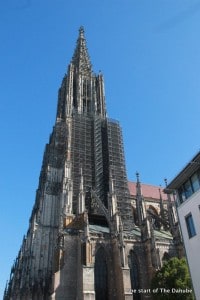 The ride took me through the cathedral square and then along The Danube now a fully fledged wide flowing river, although the only lock I saw could only take UK style narrow boats. I started to flag so popped into a beer garden in an orchard. A bit like The Orchard except for beer barrel German men knocking back pints at 11am.
I had a mega green salad for lunch which I couldn't get through 🙁 in yet another beer garden.
Interestingly the distance to the mouth has started to be shown on big board every few hundred meters, first one I saw said 2561.2km to go…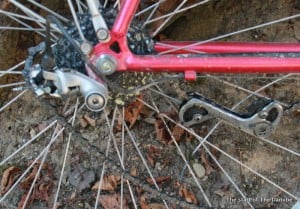 Then as I was cycling up a small hill at 14.07 in a park outside Dillingen disaster struck!! The jockey wheel assembly on the rear derailleur snapped off and embedded itself in the spokes making me stop abruptly and only just unclipping my pedal in time. Inspection revealed it was damaged beyond repair plus it had broken two spokes.
What to do next? First thing is to form a conference with anyone passing! I was told there was a repairer in Dillingen. So out came the tools to remove the damaged bits  and cut the broken spokes off. I walked into town in 10 minutes to find the excellent but very busy Top Bike Brachem shop who told me to get a coffee and come back in an hour. So amazingly at 15.48 I was back on the road! in my new cycling shorts. I asked the owners if they knew anywhere local to stay.
They recommended the Schloss Kaltneck in Schwenningen and awesome it is too 🙂 the dinner tonight was excellent and my room is great.
So all in all a very lucky day. Mileage today is 49.8 but that includes walking around Dillingen. With a total since leaving Cambridge of 1257 miles (2011km)
The photos are here
Strava is here: