Wednesday 6th April
I didn't sleep at all well, maybe it was the excitement of visiting the Victoria Falls a childhood dream or maybe it was the bed!  The previous evening had been pretty awful with all the locals dossing about watching football 🙁 plus a silly ticketing system at the bar. Unfortunately for me  I  had already booked and paid for 4 nights.
For breakfast  I took myself of to The Shearwater Cafe followed by a stream of the usual touts :-(, Interestingly Shearwater seem to own everything in Victoria Falls.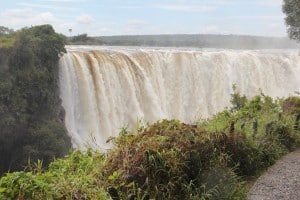 I wandered down to The Falls and paid my $30 entrance fee. The falls are totally spectacular and didn't disappoint at all far better than I ever imagined just so wide, nearly a mile, the volume of water is totally immense making me wonder why so much of Africa is desert and that Zimbabwe is importing food from South Africa.
I took loads of photos until the inevitable happened and the camera became waterlogged with the spray 🙁 🙁  fortunately the iPhone kept working.
I went to the internal cafe, Shearwater again, and tried to dry it out. I was not alone 🙁 a lady had an identical D550 that had suffered the same fate, she was in a much worse position than me as her travelling was only just beginning. She is off to China via the 'stans. It's a small world – she recognised me from the border post!
In the afternoon we did another quick tour of the falls the wind must have changed direction as you could see the falls much clearer than in the morning so I was able to get a nice header pic in front of the main fall 🙂
Then it was back through the touts to the town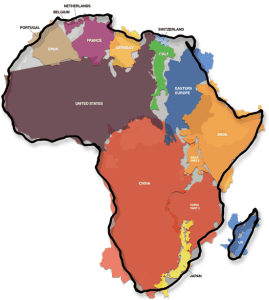 Apart from the camera a great ending to my first African trip 🙂 So pleased that I made it to the falls by using the train and safari vehicle. I wouldn't have had time to bike the additional 1000 miles. Africa is just so vast it's hard to imagine as you can see from the diagram.
So although I've biked 2000 miles it barely registers on the African scene 🙂
Once home I guess it will be time to send the Canon back to Colchester Cameras yet again! My next camera I think will be a Nikon which apparently are a lot more water resistant.