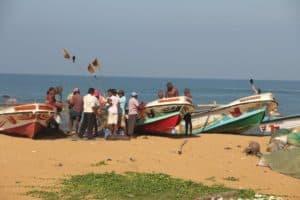 I was on the road just after 7am for the 40 mile ride up the coast and back to where I started 24 days ago.
An interesting ride along the beautiful coast, some what marred with so called luxury hotels hidden behind their prison height walls 🙁 with an intermingling of shacks and closer to Colombo a veritable shanty town around the railway line. Pretty astonishing such poverty in so much natural beauty.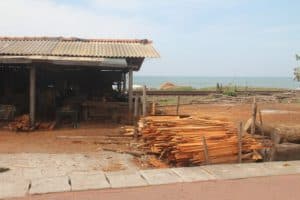 The road I came into Colombo was just full of workshops either sawing up giant tree trunks or making furniture and doors etc. No health and safety here! shudder to think how many fingers and eyes have been lost from the huge circular saws 🙁
I arrived at the West Inn at 1pm for the bike to be reunited with its box 🙂 The Strava is here and pics here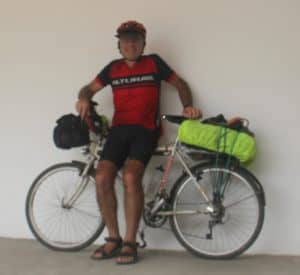 I then spent all afternoon to rearrange my flight home. My word the Qatar Airlines website is a total & utter shambles, glossy on the service but totally broken underneath apart from booking new flights. In the end out of desperation I went to their Facebook page and finally using Facebook Messenger the job was done! but oh how painful 🙁
I will be back home on Monday morning.
Here are the stats of the trip:
| | | | | | | | | | | |
| --- | --- | --- | --- | --- | --- | --- | --- | --- | --- | --- |
| Trip to Sri Lanka | | | | | Km | 1772.2 | 6.9 | | | |
| | | | | | Miles | 1107.6 | 22731.0 | | | |
| Day | Date | Weekday | From | To | Bike Days | Miles | Elevation (ft) | Speed mph | % Gradient | Hotel |
| 0 | 31 Jan 2017 | Tuesday | London | Doha | | | | | | Flying |
| 1 | 1 Feb 2017 | Wednesday | Doha | Colombia | | | | | | West Inn |
| 2 | 2 Feb 2017 | Thursday | Colombia | Colombia | 1 | 23.4 | 336 | 5.9 | | West Inn |
| 3 | 3 Feb 2017 | Friday | Colombia | Negombo | 2 | 35.7 | 174 | 9.5 | | Emel Boutique Hotel |
| 4 | 4 Feb 2017 | Saturday | Negombo | Puttalam | 3 | 61.2 | 183 | 10.9 | | Puttalam Thambapanni |
| 5 | 5 Feb 2017 | Sunday | Puttalam | Mannar | 4 | 77.4 | 633 | 10.5 | | Juli Hotel |
| 6 | 6 Feb 2017 | Monday | Mannar | Jaffna | 5 | 73.0 | 296 | 11.1 | | Old Park Villa |
| 7 | 7 Feb 2017 | Tuesday | Jaffna | Kilinochchi | 7 | 63.2 | 200 | 10.8 | | AKR Hotel |
| 8 | 8 Feb 2017 | Wednesday | Kilinochchi | Anuradhapura | 8 | 84.2 | 1031 | 12.9 | | Senowin Resort |
| 9 | 9 Feb 2017 | Thursday | Anuradhapura | Trincomalee | 9 | 66.6 | 706 | 11.8 | | Orrs Hill House |
| 10 | 10 Feb 2017 | Friday | Trincomalee | Polonnaruwa | 10 | 107.4 | 684 | 12.2 | | Peacock Vista |
| 11 | 11 Feb 2017 | Saturday | Polonnaruwa | Polonnaruwa | 11 | 12.3 | 197 | 6.1 | | Peacock Vista |
| 12 | 12 Feb 2017 | Sunday | Polonnaruwa | Kanfdalama | 12 | 70.5 | 1421 | 10.5 | | Heritance Hotel |
| 13 | 13 Feb 2017 | Monday | Kanfdalama | Kandy | 13 | 57.9 | 3270 | 8.8 | | Homestay – Benjamin |
| 14 | 14 Feb 2017 | Tuesday | Kandy | Ramboda | 14 | 32.9 | 3029 | 7.0 | | Thuruliya Residence |
| 15 | 15 Feb 2017 | Wednesday | Ramboda | Bandarawela | 15 | 49.1 | 6286 | 7.0 | | Mountains Edge Inn |
| 16 | 16 Feb 2017 | Thursday | Bandarawela | Kirinda | 16 | 69.3 | 804 | 12.2 | | The Wild Tusker |
| 17 | 17 Feb 2017 | Friday | Kirinda | Hambantota | 17 | 48.0 | 376 | 10.5 | | Samren Hotel |
| 18 | 18 Feb 2017 | Saturday | Hambantota | Tangalle | 18 | 31.8 | 627 | 10.0 | | Gayana Guest House |
| 19 | 19 Feb 2017 | Sunday | Tangalle | Mirissa | 19 | 40.0 | 1269 | 8.4 | | Club Marissa |
| 20 | 20 Feb 2017 | Monday | Mirissa | Marissa | | | | | | Club Marissa |
| 21 | 21 Feb 2017 | Tuesday | Marissa | Galle | 20 | 24.9 | 449 | 8.5 | | Old Dutch House |
| 22 | 22 Feb 2017 | Wednesday | Galle | Galle | | | | | | Old Dutch House |
| 23 | 23 Feb 2017 | Thursday | Galle | Bentota | 21 | 38.4 | 539 | 11.3 | | Bentota Beach Hotel |
| 24 | 24 Feb 2017 | Friday | Bentota | Bentota | | | | | | Bentota Beach Hotel |
| 25 | 25 Feb 2017 | Saturday | Bentota | Colombo | 22 | 40.4 | 221 | 9.3 | | West Inn |
| 26 | 26 Feb 2017 | Sunday | Colombo | | | | | | | |
| 27 | 27 Feb 2017 | Monday | Home | Colombia | | | | | | |