Saturday, February 24, 2018
The impending storm with its heavy rain fast approaching and the bike fixed I thought I would make this one long final riding day in the sun. One factor in my favour was a fair bit of the distance was downhill.
Hotel Santa Barbara provided an early breakfast at 7 am so I was on my way before half-past seven with the bike working perfectly and empty roads I made good time.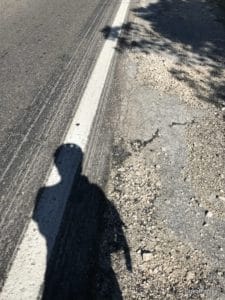 As the day became busier it became even clearer why Portugal is a nightmare country for road biking. Although most of the day there was a parallel motorway no one uses it! as its a toll road. So drivers & trucks still hurdle down the old road trying to prove to themselves its just as fast as the motorway this coupled with the dire state of the 'hard shoulder' made even worse by the guy with the road planer making seemingly random furrows down the sides of the road make it a very hazardous experience.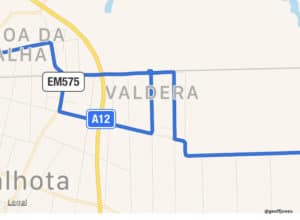 I was pleased to get off and go down into the pleasant riverside town of Alcacer do Sol to recover and get some lunch!  After passing through Aguas de Moura the last part of the ride I had decided to try a part of the official Ecovia 11 (Lisboa – Badajoz) cycleway 🙁 why o why did I do that? when will I learn that official cycleways are for young fit guys on mountain bikes with plenty of time! Total nightmare the track soon deteriorated into the very fine sand of varying depths would I ever make it to the ferry! to make matters worse the Open Street Map was only partially complete (unsurprisingly) and Google Maps was even worse than usual. Eventually, after doing a loop I found tarmac and picked up speed again. Finally making the ferry at Cais do Seixalinho just as the sun was setting 🙂
I had chosen the Lost Lisbon, Cais House due to its proximity to the ferry terminal truly an impressive residence although carrying the bike up 3 floors was hard after biking 111 miles and pedalling through sand! My room is massive the only downside is that the rooms are not en-suite but everything else is truly impressive.
So that's the end of the jaunt across the Iberian Penisula!
Here is the Strava:

The Flickr pics are here: