I woke up at the Felix Hotel in Lorca feeling dreadful. A bunged up nose, sore throat & gummy mouth the dreaded lurgy had returned again from  my Taiwanese cycling Trip
I still hadn't made my mind up which way to go; the problem is that they have now made parts of the old road into a motorway so at one point the only way is on a footpath for 10km or maybe hop on the motorway a short distance between two adjacent junctions.
In the end, I chose the back roads so I could visit Velez Blanco leaving the path/motorway decision for another couple of days.
First stop was the pharmacy where I was sold 40 X 600mg  Ibuprofeno capsules, seemed a bit extreme but only €5. Then it was across to the co-op to fill the water bottles and get some cereal bars etc. So it was nearly 10 am before I really started biking.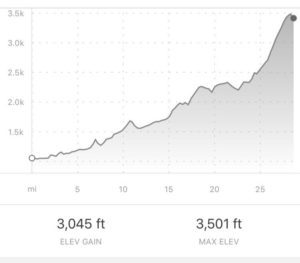 It was a gorgeous sunny day so I decided to not book a hotel until I knew how well I was doing,  as it was going to be uphill all day. The road was obviously the old main road so it was wide totally deserted and a pleasure to be on. I even had a couple of mini downhills but after Jardin the serious climbing started with the White Town and castle perched high up.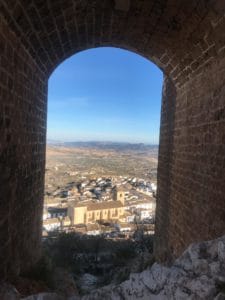 The hill is endless, I ended up stopping for breathers every 10 minutes or so but I made it! A 1,000-metre climb with all the bags on the bike. The village itself is quite beautiful with stunning views of the surrounding area and the castle dominating, I'm sure laying the paviours throughout the village must have been a worthwhile contract for some guy.
I eventually found a bar to get a Coke and tortilla (€4) and decided that I had done enough for one day so a quick look on booking.com found me AT Restaurante El Palacil literally a stone's throw away. I have my own apartment with the terrace offering good views.
A pretty exhausting day with my lurgy and over 3,000 feet of climbing. Let's hope tomorrow has some serious downhill and less of the lurgy.
For fun just looked at the Strava segment on the final hill which is a Cat3 climb, I'm No1 in my age category 🙂 but overall what took me 31:45 to do the KOM took 6:37
Here is the Strava:

Geoff Jones Flickr