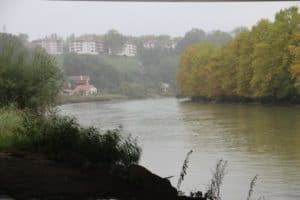 The thunder, lightening and torrential rain kept me waking up through the night 🙁 Fortunately the rain had stopped in the morning but the clouds still looked threatening.
No chance of overeating at this breakfast! one small croissant 1/4 of a baguette a bit of butter and some jam plus a black coffee and a drop of orange juice was the order of the day.
I extra carefully packed all the bags as it was obvious rain was on the menu plus unbelievably I booked the nights accomodation before departing! such organisation.
Cycling was easy to begin with hitting an average of 14mph for the first hour 🙂 I really like the CycleMa.ps plugin, its excellent, very simple. It shows you the gpx route previously entered but as a bonus shows you the neighbouring official cycle tracks too, very handy and well used today. Another feature is the map can be made so the direction of travel is always up. useful for dyslexics like me. However, things went pear shaped when i fell of trying to navigate a sharp right turn with diagonal bollards fitted to make it that bit harder 🙁 No long term damage the iphone broke of at the ball joint so was easy to plug in and start of again.
Not many stops today, a short one for a tartiflette in Capbreton then a longer one in Bayonne for some Macaroni, I'm trying to cut down on eating when riding. The weather suddenly turned cold so I disappeared inside for a coffee when I came out it was hammering it down 🙁 the first test for the iPhone7 🙂 It worked OK although it needs a sponge to wipe the screen as once its covered in rain swiping doesn't really work.
I continued in the wet hugging the bank of the Nive River, interesting to see the Eights with a guy in a powerboat shouting orders rather than the Cambridge cyclist. Eventually at the first weir I left the river and started climbing up to Espelette and the previously booked Chilhar Hotel arriving at the early time of 3.24pm. The town is on a very steep hill and seems to be based, historically anyway, on chillies. Now its a bit like a film set with decorated houses all very much a pastiche and a tourist honeypot. But I must say arriving at 3.30ish is to be preferred.
I had an excellent meal in the restaurant downstairs and the room is great with views, now the rain has cleared, of the hills to climb tomorrow something like one mile of vertical ascent 🙂 to get me into Spain
The Strava of the 52.6 miles is here
and a few pics are here
The Blaze conked out again although it managed to work on me climbing up the hills at the end: