As most people know by now 🙂 I'm back in Cambridge after my mega bike trip.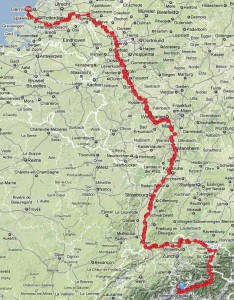 I managed to bring my bike back, from my apartment in Les Gets, where I left it after last years ride out there.
To fit in with this years theme I decided to follow the Rhine (from its source near the Oberalppass) to the sea (near Rotterdam with its convenient ferry back to East Anglia). However, to get to the Rhine from Les Gets you have to follow the Rhone to its source as well. I managed to cycle from Les Gets down to Lake Geneva and then up the Rhone valley to Martigny but then decided to hop on the train to Andermatt where my Rhein-Radweg books start.
The overall trip was just under 1100 miles which I did in 14 days at about 10mph, 12 days of which was following The Rhine.
My Dawes Galaxy Tour worked perfectly standing up to the rough off road bits equally well as the super smooth bike paths. The gear ratios are all perfect 🙂 and Thierry adjusted the derailleurs so they clicked through effortlessly. After having it fitted with straight handlebars and click gears last year. This year I added the Altura drylined handlebar bag which worked perfectly. The new handlebar ends were disappointing and led to my rib damage! I need to find the ones like in Holland or that Gail has!
I fell off once with some damage to a rib which is still making me feel as though I'm having a heart attack a week later! However, it is improving.
I didn't find the Germans or Swiss particularly friendly whilst riding so maybe the next trip will be to France / Spain or maybe New Zealand (A couple on a tandem had just come back from 6 months of touring NZ which they enjoyed).
Here is  a table of all the various blog posts, Everyttail's and Picasa pictures:-
| | | | | |
| --- | --- | --- | --- | --- |
| | Day (Link to My Picasa pictures) | Trip Leg (Link to blog post) | Miles (Link to trip on Everytrail) | Moving Time |
| 1 | Thursday 8th July 2010 | Les Gets to Martigny train to Andermatt | 67 | 5 hr 30min |
| 2 | Friday 9th July 2010 | Andermatt to Zizers | 69 | 7 hr 40min |
| 3 | Saturday 10th July 2010 | Zizers to Rorschach | 72 | 6 hr 42min |
| 4 | Sunday 11th July 2010 | Rorschach to Ellikon | 64 | 6 hr |
| 5 | Monday 12th July 2010 | Ellikon to Basel | 73 | 7 hr |
| 6 | Tuesday 13th July 2010 | Basel to Ottenheim-Schwanau | 80 | 7 hr |
| 7 | Wednesday 14th July 2010 | Ottenheim-Schwanau to Maximillansau | 79 | 8 hr* |
| 8 | Thursday 15th July 2010 | Maximiliansau to Oppenheim | 92 | 8 hr 15min |
| 9 | Friday 16th July 2010 | Oppenheim to Spay | 69 | 6 hr 35 min |
| 10 | Saturday 17th July 2010 | Spay to Cologne (Köln) | 77 | 7 hr |
| 11 | Sunday 18th July 2010 | Cologne (Köln) – Xanten | 94 | 9 hr |
| 12 | Monday 19th July 2010 | Xanten to Wijik bij Duurstede | 78 | 8 hr |
| 13 | Tuesday 20th July 2010 | Wijk bij Duurstede to Hook of Holland | 91 | 8hr 13min |
| 14 | Wednesday 21 July 2010 | Harwich to Cambridge | 68 | 6hr 3min |
| | | Total miles cycled | 1072.69 (Everytrail misses Day1 and Day 14) | |
| | | | | |
Thanks to Joost and Chris at GlobalMotion I have a complete Everytrail of The Rhine part of the trip (hang on it takes a while to download):-
Cycling the length of The Rhine at EveryTrail
Plan your trips with EveryTrail Mobile Travel Guides