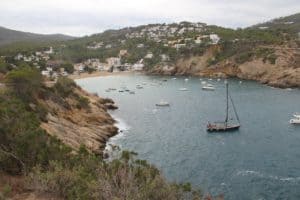 Oh dear lost track of which touring day I'm on 🙂 Senility is creeping in and anyway does it really matter?
I'm now doing a very leisurely tour of Ibiza. The island is  about 100 miles around and I have a week before I have to jet back to the UK to take my whole family, 4 grandkids, 3 kids and 3 spouses plus Sally & I,  to Butlins for a fun filled half term break.
I'm going clockwise from Ibiza Town which actually in Spanish is called Elvissa. The first stop was at San Antoni which is the second town of Ibiza & famous for its sunsets. With the British its famous for the Irish Bar  and other home comforts like Bacon & Egg breakfasts with beer, totally different atmosphere to the more dignified Ibiza Town. For me the most awesome thing was having a true 50MB Down & Up internet at Hostal Mari where I stayed 🙂 I enjoyed the ride, the road was in excellent condition but quite hilly. Strava made it 2384 feet of climbing in 30 miles
Yesterday it was a 800 foot  climb straight out of San Antoni on my way to the northern tip of the island at Portinatx with a total of 3143 feet in the 27 miles. I dropped down to Port de San Miguel to get in some more climbing and take a peek at another bay. The roads were good and pretty empty. In Portinatx I had booked into an 'all inclusive' Apartamentos Club Paradise Beach. A bit dated place with a pretty rubbish internet connection, especially with 50+ teenagers hanging off it.  It must have been a gorgeous cove in the past, think I'm about 50 years late visiting here.
The photos are here now I've sorted dropbox out