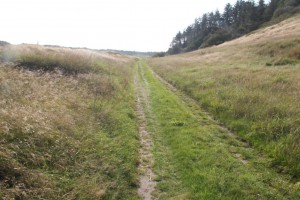 I woke up after a fitful night of dreaming centring on my old house 🙁 for a change it was a lovely sunny morning with the flags fluttering in the breeze!
I decided not to make the same mistake as yesterday morning so, after packing, I headed up the hill for a full on breakfast at The Montra Hotel for 90 crowns followed by crossing the road to Aldi Nord and buying 1.5litres of energy drink, two Ritter bars & the obligatory banana. Plus I put my Dextrose tablets in the bar bag, just in case.
Apparently all the ferries have been stopped at Hanstholm as they are busy carrying windmill parts so be warned if you wanted to get a ferry across to Sweden. The day was mainly along rough tracks, this route is obviously designed for mountain bikers or certainly bikes with wider tyres than my Dawes Galaxy. There were a couple of sections on quite busy main roads with, unusually, no dedicated bike lanes.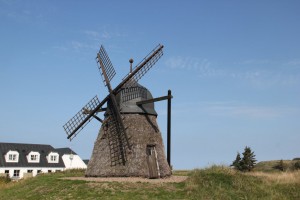 There were also some unexpectedly quite short steep hills which are really quite hard on gravelly/sandy surfaces us the minute you stand up you lose traction on the rear wheel 🙁 I was certainly grateful for the big breakfast as I didn't even see any cafes! so when I reached the ancient windmill at Gronnestand I sat on the beach and munched my way through a Ritter bar. Later in the day at Slettestrand I found an open cafe, although the cake was a nouveau cuisine affair so not that good.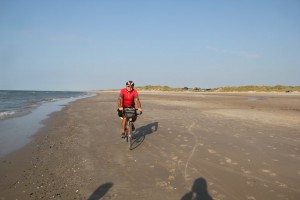 The biggest surprise of the day is at Blokhus where the route takes you on the beach! the sand is firm enough for cars etc to bomb up and down but my poor wheels struggled until I got near the waters edge. It started as great fun but after 5 miles my poor legs were complaining so I was happy to leave the beach and finish the day on a very rough unmade track into Lokken.
I overshot the Lokken hostel on the way in so at to an about turn and found it in the sports centre car park!  A long, nearly 70 miles, but enjoyable sunny day with a manageable wind.
The Strava for the day is here and pictures here with a bonus video here: