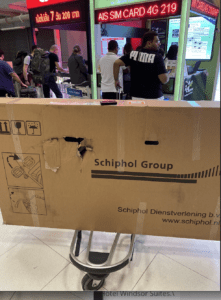 I arrived in Bangkok with the bike still intact in its box just under 24 hours after leaving Amsterdam. Apparently it's 2061 days since I left here last time after passing through on my epic Hanoi to Singapore bike ride. I'm once again staying at the Hotel Windsor Suites.\
The flights were OK although a bit dull as I had no interesting fellow passengers this time and in fact Etihad seemed a bit uninspiring too. Not much sleep either. However, Bangkok airport is truly vast and incredibly busy with immigration all very slick & easy
A SIM card at the airport for my modem cost 1099 Baht (£28) for 250GB of data over 30 days with the speed restricted to 4Mbps, which just about handles Facetime calls OK. From the airport I took a taxi with the bike in its huge box squeezing in behind, total cost 500 Baht (£13). I quickly re-assembled it in the foyer and it seems to have survived the flights really well no problems at all.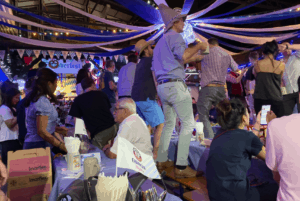 Dinner amazingly was at the Oktoberfest just across the road complete with dancing etc:-)
I will probably stay in Bangkok until Sunday to fully recover from the flight and biking out of the city should be easier.