Having been riding with the Cambridge CTC for the past 10 months I thought it was now time to try my hand at being a Group Leader on one of their City Thursday rides.
First thing I had to learn was that it's the leader job to work out a route between the previously designated coffee stop and lunch stop. As well as satisfying the mileage requirements or timings coffee by 11 am lunch by 1 pm. My first route had a long route between coffee & lunch so was rated as poor so I returned to ridewithgps.com. Apparently, the preferred distances are 18/18/24 miles or thereabouts.  After some fiddling, I created this route which met all the criteria as well as satisfying myself on a different route out of the city avoiding both the DNA narrow track and the awful surface on the Barton road track.
So Thursday came with totally perfect cycling weather, I bumped into Simon coming down Gonville Place on the way to the start so I clearly wasn't going to be on my own. In fact, 6  other riders showed up. I managed to get all their names for the required Registration Form, something I had been agonising over as I'm useless with faces & names.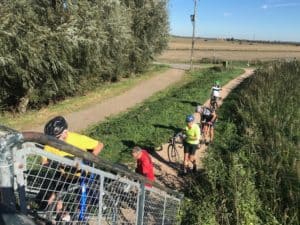 At 9.15 prompt we departed the first mistake of the day for me was that I didn't designate a backmarker but Glynn kindly did it anyway. The second mistake was not having a rear view mirror so I couldn't tell if I was on my own out front or with the group.
We made smooth progress through Grantchester and the new Trumpington Meadows Country Park. After passing around Whittlesford we discovered that Jeff had gone AWOL probably because we had deviated slightly from my published route, John went back but couldn't find him so after 10 minutes we carried on the next holdup was Glyn scoring a puncture. However, we still made it to the wonderful Old Butchers cafe in Balsham at 11 am to meet up with the village group. I love the friendly rivalry between the city slickers and the village people. Jeff rejoined our group having got lost in the graveyard
After a very relaxing 30 minutes with a slight change in riders, we departed for Isleham along the B1052 through Newmarket at a decent pace on a good road. We arrived at The Griffin pub. at 12.45 way before the others. However, there was still quite a delay in getting our food since apparently, no one had warned them about 14 hungry cyclists turning up.
We returned home with the inevitable headwind across the fens to Wicken Fen and then along the Lode Way & new Quy cycleway back to Cambridge.
A splendid cycling day and a good introduction to ride leadership for me with an experienced group, although I MUST get a mirror.
Thanks to Seb for the header photo and post ride cuppa.
The days Strava: