Friday 23 February 2018 – My eldest boys birthday!
Blimey, the Portuguese are so miserable I went down at the allotted hour for breakfast to find no sign of life except a living statue of a man in the hall, not a smile or grimace. Eventually, I worked out the restaurant was across the courtyard so as I went the door opened in silence with me followed by the guy and his 3 equally (e)motionless friends. Wow, was I glad to escape?
With only one gear (the front gear worked once or twice) of I revved the gear I had chosen gave me a top speed of~18kph thus enabling me to do a fair bit of climbing >1,600ft without having to walk. In fact, it's oddly relaxing not having gears as you just let it roll going down but how FixieMick does it I never know.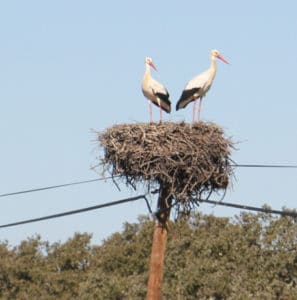 On the way near Azinhal there were loads of Storks nesting on the top of electricity poles! How do they do it? Interestingly on the vacated nests lots of smaller birds make the undersides into there own nests!
At the final roundabout in Beja where Google said the bike shop was, I looked around and woe and behold not only a bike shop but a full-blown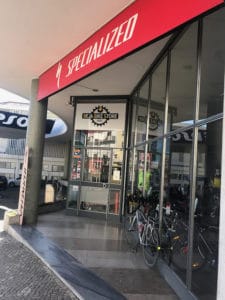 Specalized Concept Store manna from heaven. It was closed for lunch but the friendly bike fitter (yes he smiled) told me where the restaurant was around the corner and yes an equally friendly English speaking guy fixed me up a veggie pizza, suddenly the world was a brighter place. I had time to check in the Hotel Santa Barbara around the next corner then took the bike to the store.
So two hours and €25 later the bike was totally fixed 🙂 I spent the afternoon sightseeing in Beja, a very pleasant small town, especially with a great bike store!
The Strava is here

and Flickr