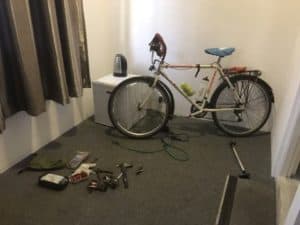 After sleeping like a log and with no snoring I assembled  the bike in my bedroom at West Inn, the only damage was the rear mudguard. This was broken (quickly fixed later by the car seat repair workshop down the road).
After breakfast I then tried to find my way to the old town avoiding main roads. Both maps.me and gmaps were useless 🙁  showing roads that certainly don't exist now and probably never eg a track by the river. After doing numerous edits to OSM I eventually gave up and went on the main road.
Unfortunately for me this Saturday is their Independence day celebrations. this meant the army, air force and goodness know who else were practising marching on the main roads 🙁  the congestion was unbelievable,  the worst I've ever experienced, especially since the zillions of Tuk Tuks can turn on a penny.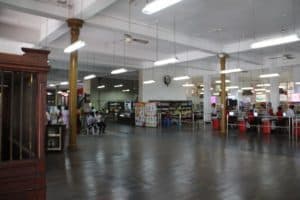 Eventually I made it to The Old Fort not much to see except the station and traffic. I did a tour of the old colonial buildings . Ny favourite was the huge Cargills shop were the once mighty shop has been reduced to a few grocery shelves in a small section of the vast interior. Poor Mr Cargill must be turning in his grave.
Then it was onto the vast market area with the vast majority of stalls selling mobile phones or trainers. The new thing for me was loads of men asking if I wanted to sell the bike! I hope the lock I bough with me is going to be strong enough 🙂
For lunch i went to the rather upmarket Sugar cafe. Great veggie burger and a beetroot drink The Galle Road seafront was packed with tanks etc etc all getting polished for the big day.
Had my first experience of hitting a car in over 40 years. A young lad suddenly stopped when trying to turn a corner, with me wanting to go straight on 🙁 fortunately I was going very slowly but my left elbow still hit his rear window. No damage to his car or the bike 🙂 but it did call for a rest and a drink.
Cycling back I came across, for the first time, a real tea shop. It had a vast selection of teas all with meaningless names and of course the young lad was clueless as well. I settled for a Kandy tea (only name I knew) a bit strong for my taste.
The temperature was in the thirties and bright sunshine all day so I ended up in the afternoon drinking everything I could find. Must load the bike up with water tomorrow.
The West Inn have agreed to hang onto my bike cardboard box until my return flight. Only decision left now is do I turn left to go south round the Island or right to do the north in the morning.
My record breaking (not) Strave is here and the pics are on Dropbox here.