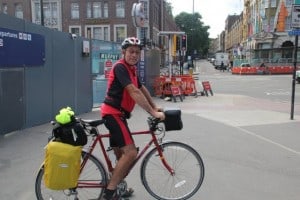 Today started with a very emotional Sally kissing me goodbye at Kings Cross, after our Pret breakfast. Not sure if the emotion was caused by the £22 single ticket fare to Cambridge (it's only £15 the other way & the return is only £1 more).
After my previous fiasco navigating out of South London I decided to use the new bike mode in the iPhone Google Maps app. Obviously Google don't expect you to be on the bike very long as it flattened the battery in less than 2 hours 🙂 and dumped me on the wretched  Route 1 Cycleway, Which sank to new lows today with the multiple kissing gates that aren't  quite big enough for a touring bike and the keyholes not quite wide enough to take panniers 🙁 Ace design lads! Additionally for a fair stretch its a  very rough pathway and it takes you past the incredibly smelly sewage works.
A very hot & hilly day necessitating many stops at petrol stations to fill up with sugar water at roughly X3 the diesel price and offering considerably less calories. (petrol has 8 MILLION calories per litre).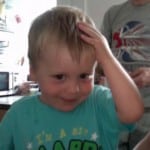 After 78 miles with quite a bit on very  busy roads, I finally made it to Whitstable a town that loves its oysters and with remarkably few b&b's. A lovely surprise was a skype call from Oliver, Ren & Stevie
Tomorrow its Dover & the boat ride to Calais.
This is my Strava data for today: