I left Hostal El Caminero at just after 8 am the whole town & Hostal deserted, obviously not early morning folks. Eventually, in Los Banos I found an open bar/cafe and managed to get some coffee etc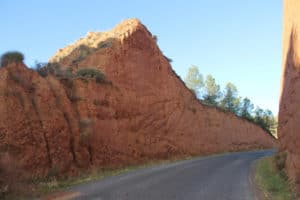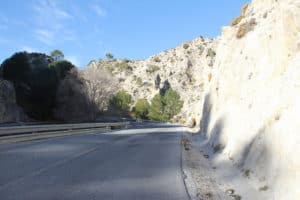 I was pleased to have fresh legs as it turned out I had a couple of huge hills to ascend the first was 700 feet (I thought that was my climbing done) but alas the main hill called for another 2000 or so feet eventually topping out at Los Blancares 1,297m (4255 feet). Hopefully, this is the last major hill on the way to Lisbon! Once again there were huge cuttings interestingly starting with sandstone but then towards the top limestone. Never fails to set my mind wandering to think all that limestone is made from dead living creatures!
The downhill was pretty good with loads of other decent riders pounding up! Towards the bottom, a very swish rider all in blue came past & for fun I slipstreamed him 🙂 He spoke some English but riding together & chatting is not really possible on the way into Granada.
I found the Marquis Urban hotel OK, however, the bike wouldn't fit in the lift so I had to carry it up to the second floor. I arrived just before 2 pm so I walked up to the Alhambra complex and wandered around with the hordes, no tickets were available so the innards will have to wait another day.
Weather-wise once again total sunshine & blue skies getting up to 24 degrees in the town 🙂
Strava is here:

Flickr pics: