After a restless nights nightmarish dreaming I awoke and very carefully made sure I didn't leave anything. I was at the breakfast table for 8.30 sharp. The Dutch couple & kids arrived a few moments later, enough to cause the landlady a little consternation. He was told immediately, for no apparent reason, to move his car 2 metres away – so that the breakfast came complete with diesel fumes 🙁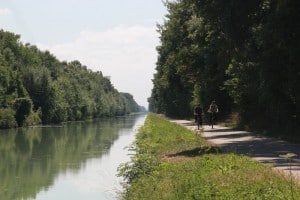 I raced off after breakfast to a glorious morning with a slight chill to the air & empty roads, apart from groups of friendly cyclists 🙂 It was very undulating to begin with but I had my strength back so it was relatively easy. I was determined to stick to my resolution to only do 50 miles today.
I had coffee in Chalons with quite a few UK tourists, then I discovered the Marne canal with its superlative cyclepath (at least to begin with). However, at la Voie Berger the path disappeared and I was once again on stony tracks (it has to be said The Dawes is superlative as an off road bike even fully laden). I have finally worked out how to stop the panniers jumping off.
I arrived in Vitry 50 miles and 6 hours later from setting off with some very fine riding a lot in top gear.. @AroundMe came up trumps again with the Hotel Tambourin, great place especially in one of the disabled rooms on the ground floor. Proper shower that you can move around in and so beautifully laid out  for ease of access.
The evening meal (and lunch)  at Le Grillardin was excellent especially with a pleasant English couple who are driving back to Henham near Saffron Walden tomorrow. The meal cost about 1/3 of last nights!
A perfect days cycling 🙂
Todays Strava is here: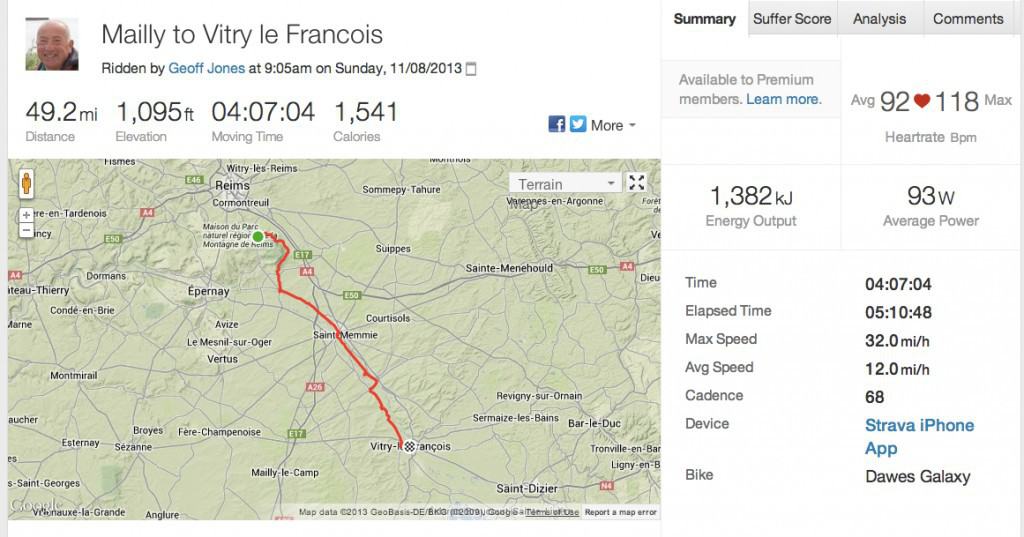 Todays pics are here