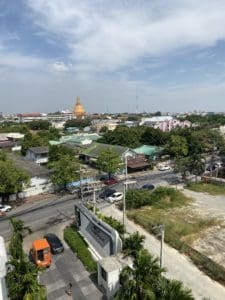 After a couple of very relaxing days at the Zen Hotel and where better to stay in Nakhon Pathom than with a Cafe Amazon, a 7-Eleven and half a dozen foot and leg massage places within a few yards of your 7th floor bedroom overlooking The Temple for £25 per night 🙂 The massages are also a total bargain at 400 baht per hour (£5).
Wit Pimkanchanapong reminded me that the starting point for the Chom Bueng 300 audax is the same temple that was used as the final staffed checkpoint at 318km on last weeks 400. I plotted out a cross country route which turned out to be a delightful 43 mile ride some on gravelled tracks but mainly country lanes past historic Buddhist Temples and the rather unique channelled fields.

All with a warm breeze pushing me along what could be better?
I arrived on time at the Big Bear Homestay very spacious indeed but I guess the kitchen and dressing room won't get much use 🙂
With the bike cleaned and oiled I'm now ready for the rather hilly, just over 11,000 feet of climbing compared to my last 300 The Everyone rides to Skeggy 300 which had just over 5,000 feet of climbing and took Sally and me 18 hours or so to do it!