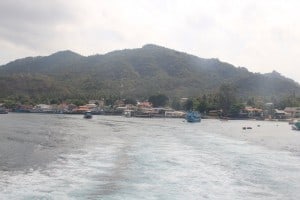 I left Koh Tao on the 9.45 Catamaran to Koh Samui with a brief stop , to disgorge hundreds of folk, at Koh Phangan. Last night was the full moon festival so i was treated to loud bangs from some humungous bangers in the street below. Fascinating how the kids like this island, a bit like bees around a honey pot & yet I  can travel hundreds of miles without seeing any Westerners. I'm fascinated by what makes a place popular and others not..
It started raining at the first stop which was unfortunate as I was sat with my bike on the back deck reading my latest John Grisham download The Racketeer (excellent btw). Interestingly I find it as easy to read on the iPhone5 s as on my Kindle paper white and a hell of a lot easier to hold! With my 10Ah battery I can have the screen & GPS on all day long 🙂 although the Lightening connector is once again on its last legs, this time through corrosion on the 'gold' contacts.
On arrival at Koh Samui I didn't take to the place, it has no real island feel, just seems like the mainland , there was no hope of finding Howard from the Grasshoppers tour so, after the major cloudburst finished, I just cycled around the coast to Nathon where I could get the ferry back to the mainland at Donsak, a hell of a lot cheaper than the Lomprayah  Cats as well! just 200 Baht for me & the bike!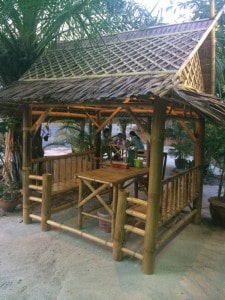 I stopped at the first motel place of the ferry, Donsak Resort and a snip at 500 Baht per night. The elderly lady cooked me some egg fried rice in her roadside diner with its smart outdoor bamboo shelters with table & seats.
Tomorrow it's back on the road crossing over to the middle where at Wiang Sa I have to decide whether to go to the West coast at Krabi or the East coast at Ko Kham
Here is my little ride on Koh Samui

 and the photos are here