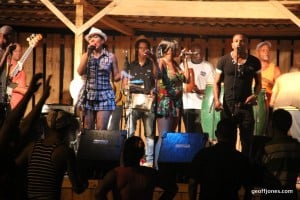 I set of before 5am in the pitch black, thank goodness I had rigged up the super bright LED lamps. My stomach was feeling ver queasy and I soon found myself doing emergency stops every few miles 🙁 was it a bug in the infirmary or was it the food?
Imias was holding a full scale fiesta, still going strong at 5am! The Spaniards are truly an amazing race, partying all night, just close the main highway and I've yet to see them drink any water!
I stopped in Cajobabo to try and find some water before the mountain pass, The panaderia filled up my bottle and gave me a coffee with some dried up bread, some breakfast for the mountain ahead.
Then it was climbing, impossible to walk as it was way to far so it was crawling up in the lowest of low gears with every little downhill I thought that was the top alas not so. Plus still stopping every few miles, eventually I reached the summit.
At the summit there is a cafe alas he only sells beer and polishes his counter 🙁 I'm totally sure there is a very non-socialist fix up going on over here controlled by some very large multi national drinks company all the soft drinks are sold in the latest aluminum cans etc and nobody sells the refresco fruits like in Media Luna.
So down I hurtled only to face yet another climb. Eventually I spotted a friendly looking old lady in her garden and asked her about a refresco fruita – she disappeared inside and bought out a yummy homemade banana & mango smoothie, no ice but was cool 🙂 🙂 refortified I continued into Baracoa.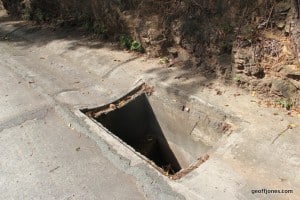 It might have been part of a Lonely Planet once but nothing guarantees the end of a lonely place more than appearing in the guide! Baracoa was heaving, the Casa where my Geordie amigo's were staying was full plus the place recommended by the German girls. Eventually a local guy came to help out he took me to a place, obviously not in Lonely Planet! But still acceptable if somewhat expensive for $24, so capitalism does work 🙂
I spent the whole night, 15 hours in bed, with the worst diarrhea ever, fortunately the fridge was filled with water and the shower worked 🙂
I'm staying here for at least a day to hopefully recover from my night in the infirmary!
48.6 miles biked and vertical ascent of 3,200feet Strava says 5,612 feet https://www.strava.com/activities/433403262
Dare I venture into the town square to find the WiFi……